This week we celebrate National School Counseling Week. Shelly Frew works with our lower elementary students and Lindsey Werner works with our upper elementary students. These ladies provide guidance lessons, counseling, and so much more. CES is blessed to have them.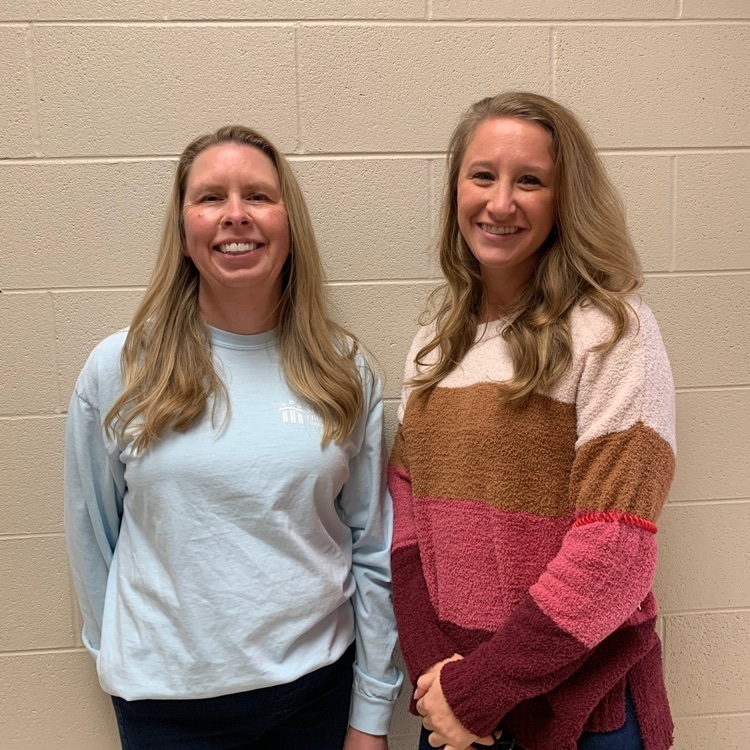 The Clarksville School Board met last night, February 7th, in response to the Governor ending the directives for students and staff to quarantine and mask. The board voted to end those mandates in both school facilities and buses. Student and staff illness will be handled in accordance with your child's student handbook and district policy, as it was prior to COVID-19. If you have any concerns, please contact your child's school office or the school nurse.

Clarksville Elementary PTO Valentine Fundraiser Students will be able to purchase soda pops for their friends for $1 each. The fundraiser is only for the Elementary school. Please keep in mind that we will NOT be able to deliver to students outside of the building. Your child has an order form. To order, return the form and the money by Friday, February 11th to your child's teacher. Soda Pops will be delivered to the recipients on Monday, February 14th. Due to supply limits, we will not take orders for specific soda pop flavors. If you have questions, you can email our volunteer coordinator at
gabriela.rivera@csdar.org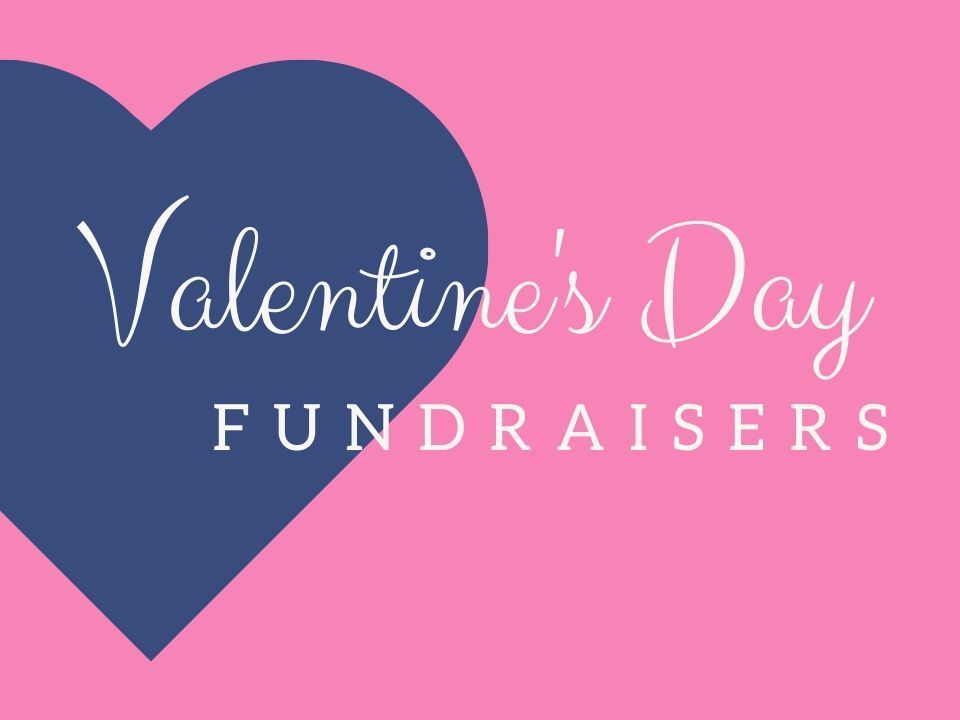 Group/class pictures are Feb. 17. 12.00 purchase is optional. Forms/envelopes were sent home. Purchase can be made online or sent in an envelope to school. See form/flyer attached if needed.

Don't forget…The 5th grade music program is this Monday at 6 p.m. 5th graders should arrive at 5:45.

No school 2/4 translations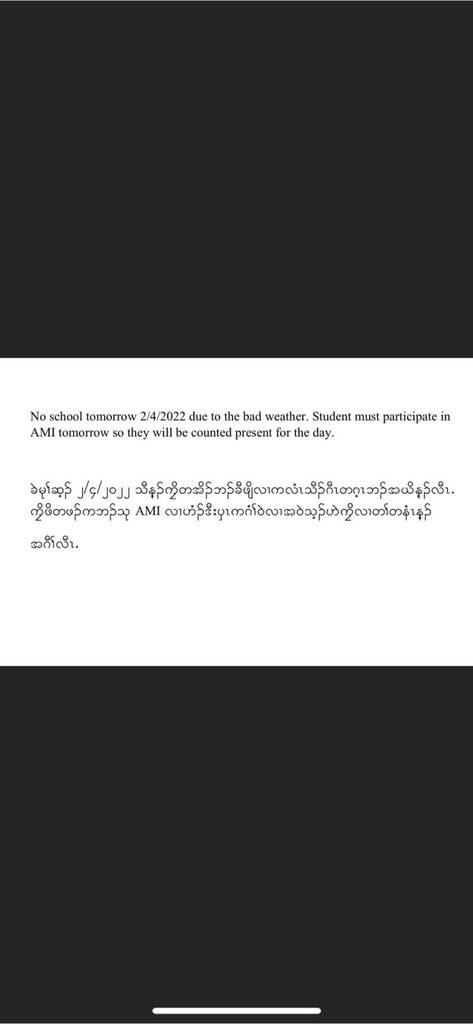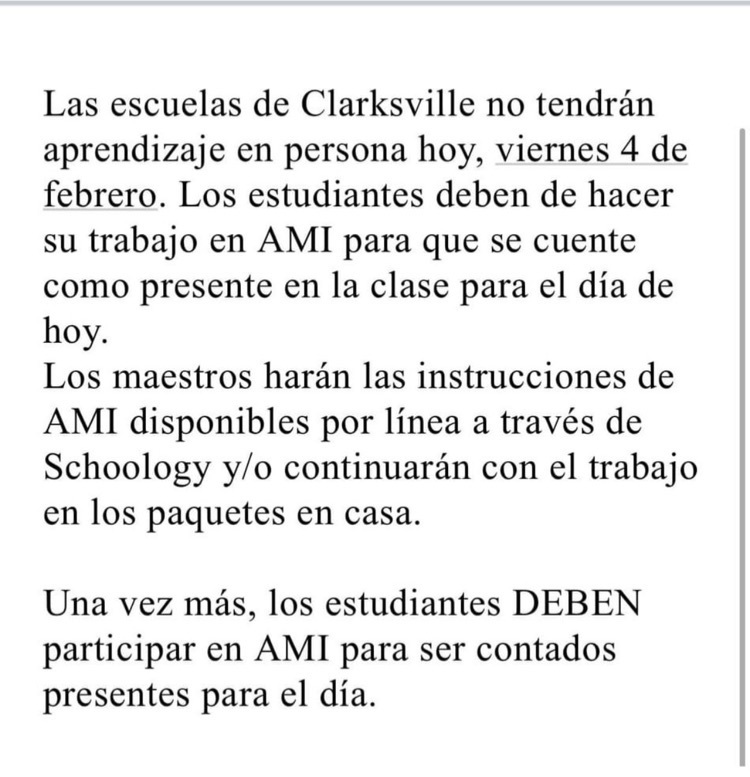 Clarksville Schools will not have onsite learning tomorrow, Friday, February 4th. Students must participate in the AMI lessons to be counted present for today and tomorrow. Teachers are available via Schoology.
Translations AMI announcements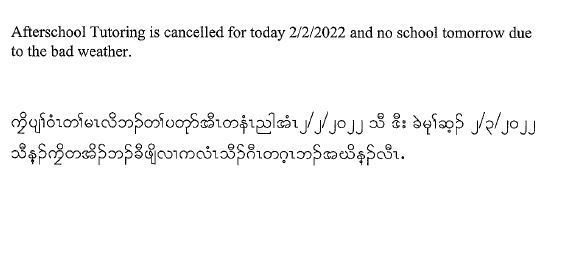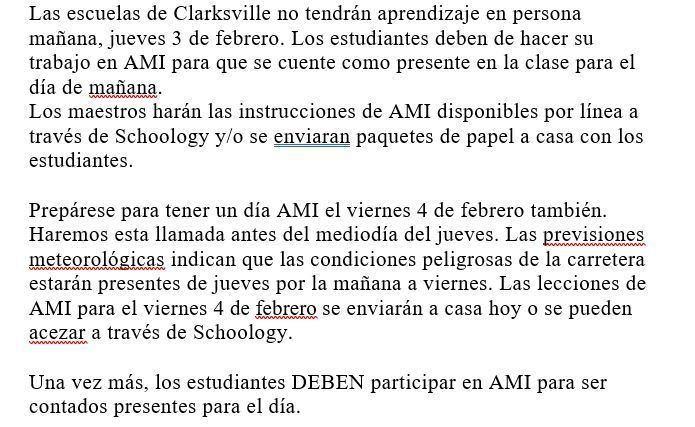 Clarksville Schools will not have onsite learning tomorrow, February 3rd. Students must participate in AMI tomorrow so that they will be counted present for the day. Teachers will make AMI instructions available online via Schoology and/or paper packets will be sent home with students. Be prepared to have an AMI day on Friday as well. We will make this call by noon on Thursday. Weather models indicate that hazardous road conditions will be present Thursday morning through Friday. AMI lessons will be sent home today or may be accessed via Schoology. Students must participate in AMI to be counted present for the day.

We will be accepting Valentine deliveries on February 14th this year. If you are sending a Valentine's Day gift to your child at school, please remember that no balloons or glass will be allowed on buses. Students will not be allowed to take balloons or glass home with them on the bus.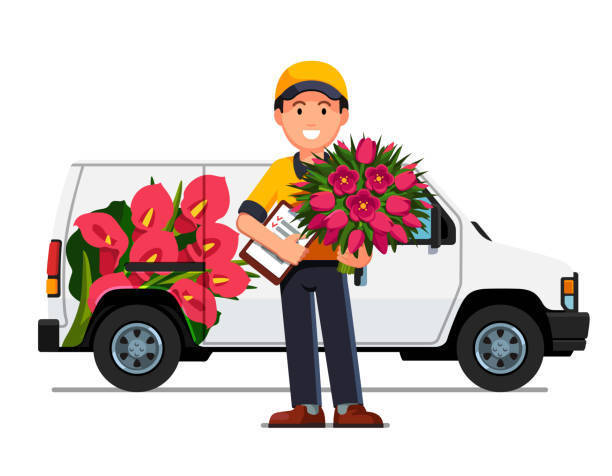 After-school tutoring (CUB club) has been canceled for today, Feb. 2.

As of today, February 1, Clarksville Primary and Clarksville Elementary have dropped below the mask requirement threshold. Those two buildings are now transitioning to masks recommended.

Calendar as of January 31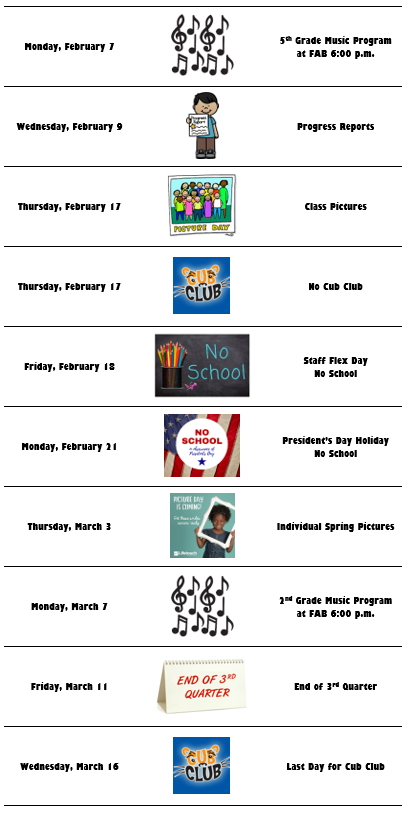 The attached images provide information for two important photo dates that are coming up. Class pictures will be help on February 17 and individual spring pictures will be held on March 3. Flyers will come home closer to time.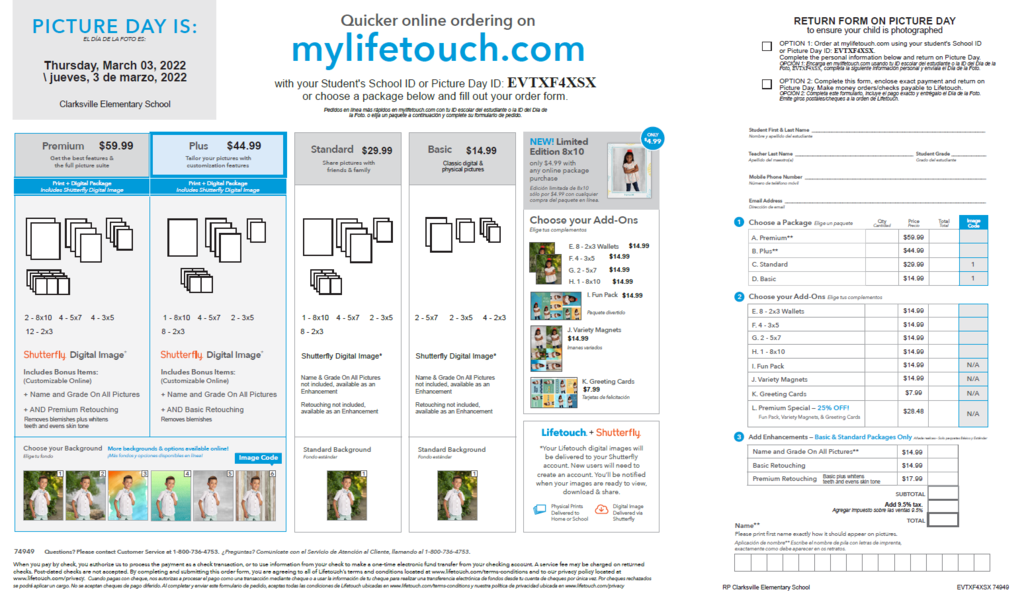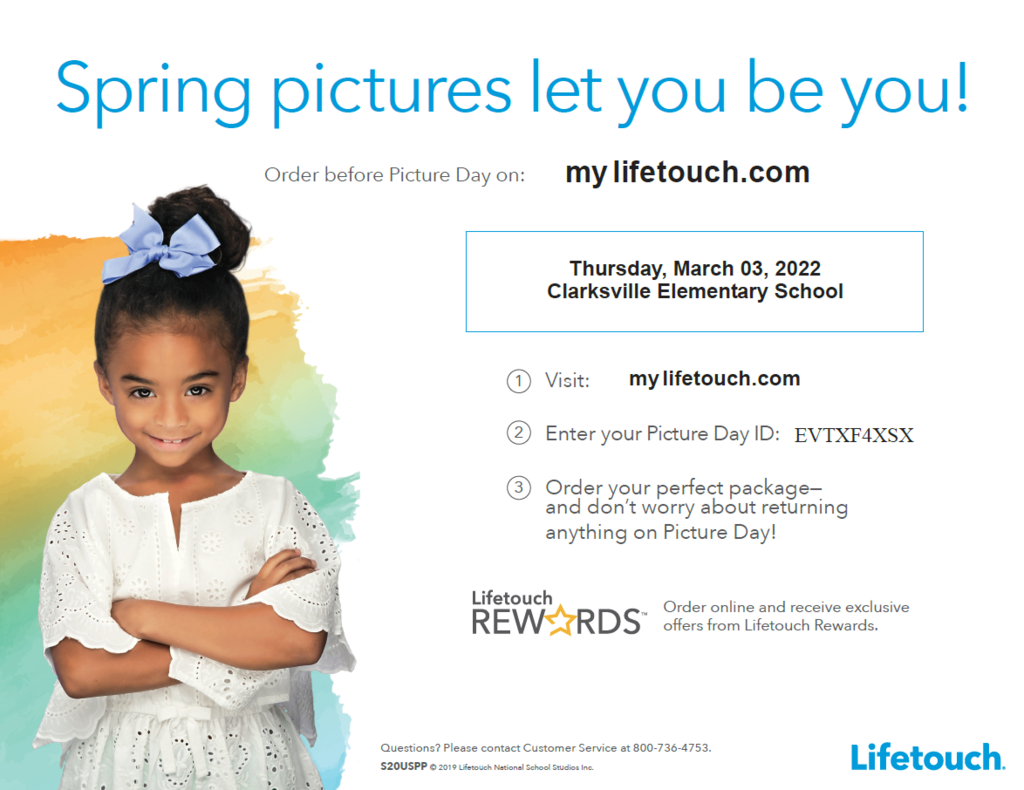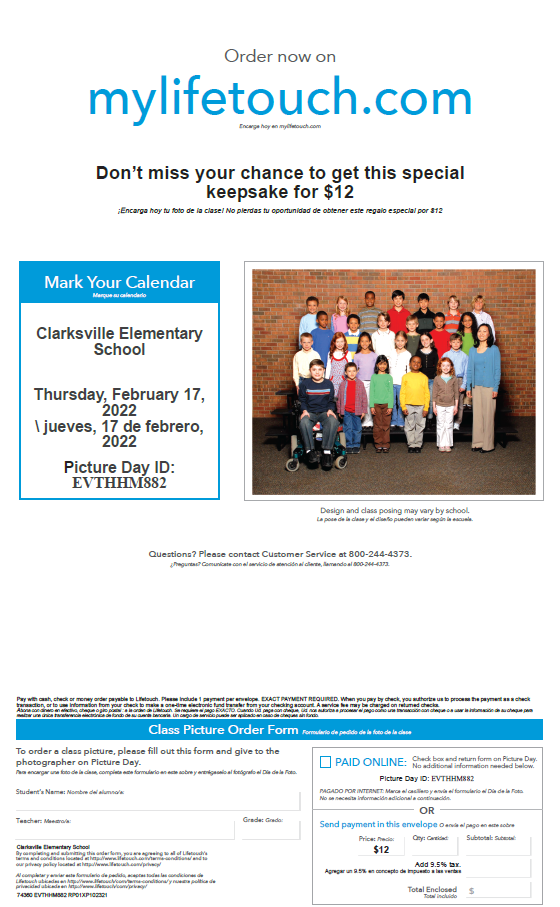 Our plan for tomorrow is to run our normal bus routes. Please keep an eye here for any changes that might occur due to staffing issues.

Homecoming is next week. Your child can show their school spirit by dressing up on the following days.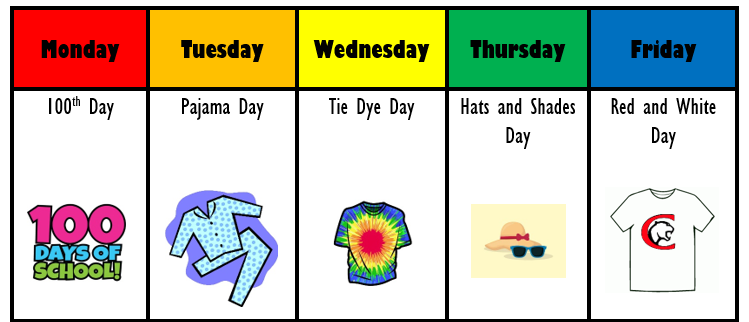 Spanish and Karen translations of bus information for 1_21_2022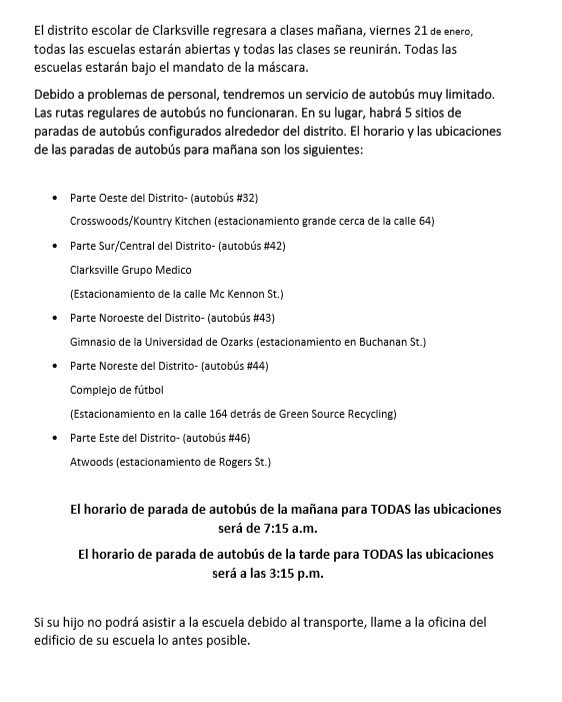 February Menus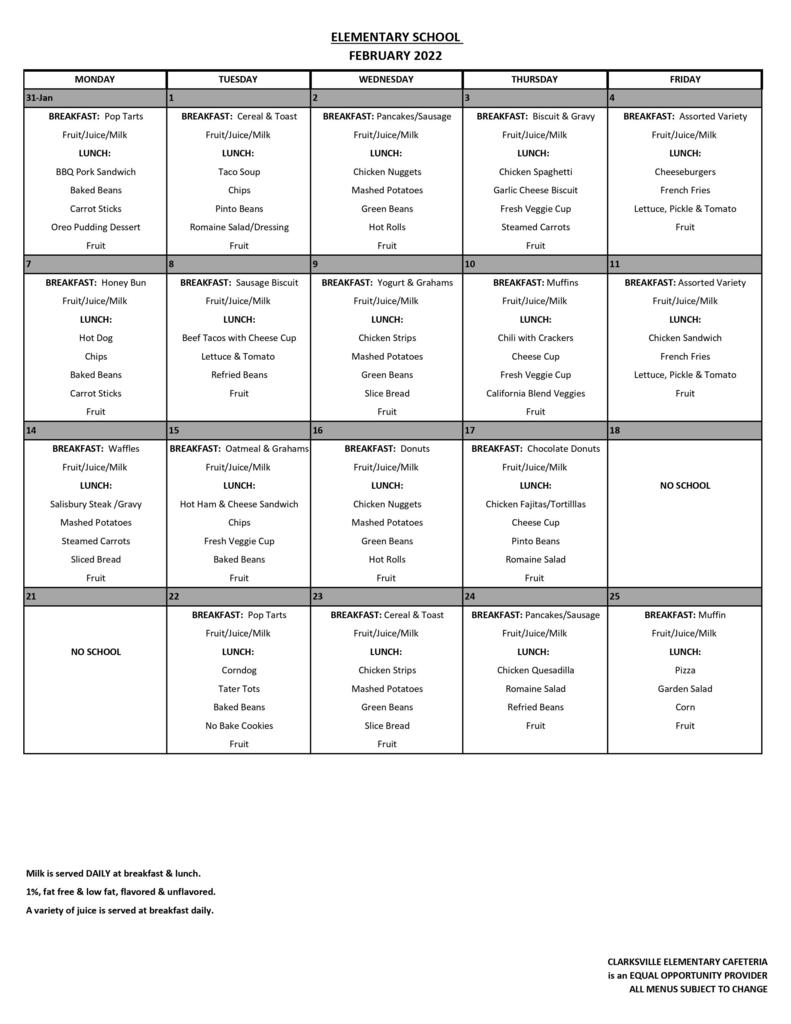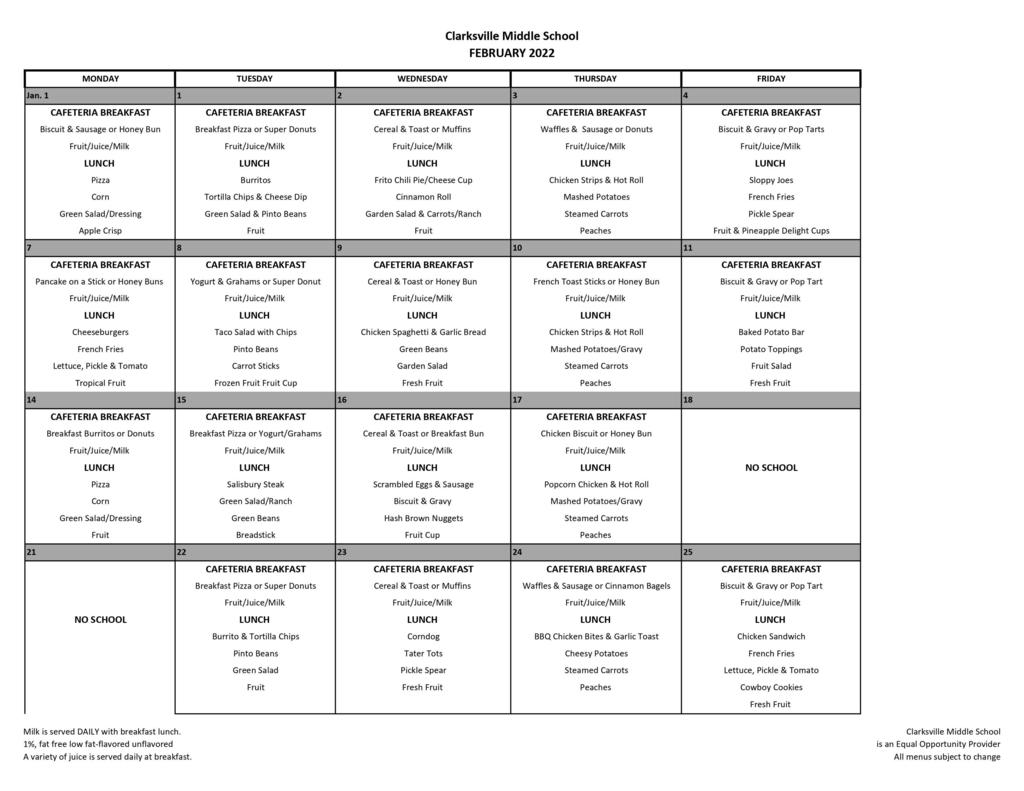 Spanish and Karen notice of AMI
Tomorrow, January 20th, will be an AMI day for the Clarksville School District. The number of positive cases and quarantines for both staff and students has continued to rise. With the current numbers of staff out we would be unable to supervise all classes and areas of the buildings. Additionally, we have multiple cafeterias who have too many staff out to be able to serve meals. Our transportation department has more bus drivers out than we are able to secure substitutes for. For these reasons, the Clarksville School District will transition to an AMI day for Thursday, January 20. We will attempt to reopen the buildings for onsite instruction on Friday. An announcement will be sent out on Thursday afternoon to let everyone know the status for Friday. Parents, please keep a close watch on your children and if you see any symptoms of COVID or test positive, please keep your child at home and contact the school nurse. Meals will be available for pickup. Please call your school office for information about where and when you can pick them up.