Calendar as of 5/4/22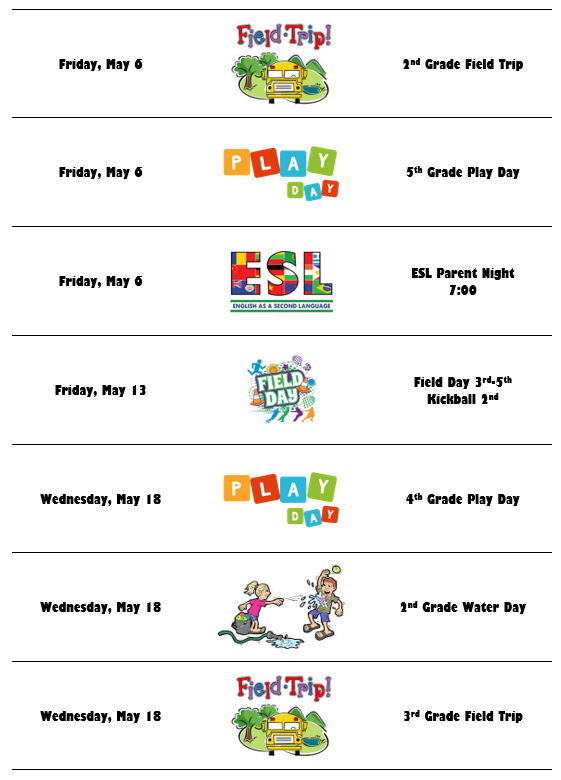 **Newsletter correction** Student Awards Assembly will be held May 19 in the Fine Arts Building on the CJH campus. Parents/family welcome to attend. 2nd: 8:15-9:15 4th: 9:30-10:30 5th: 12:00-1:00 2nd: 1:15-2:15
Dr. Curtis Varnell brought third grade flight and space demonstrations today!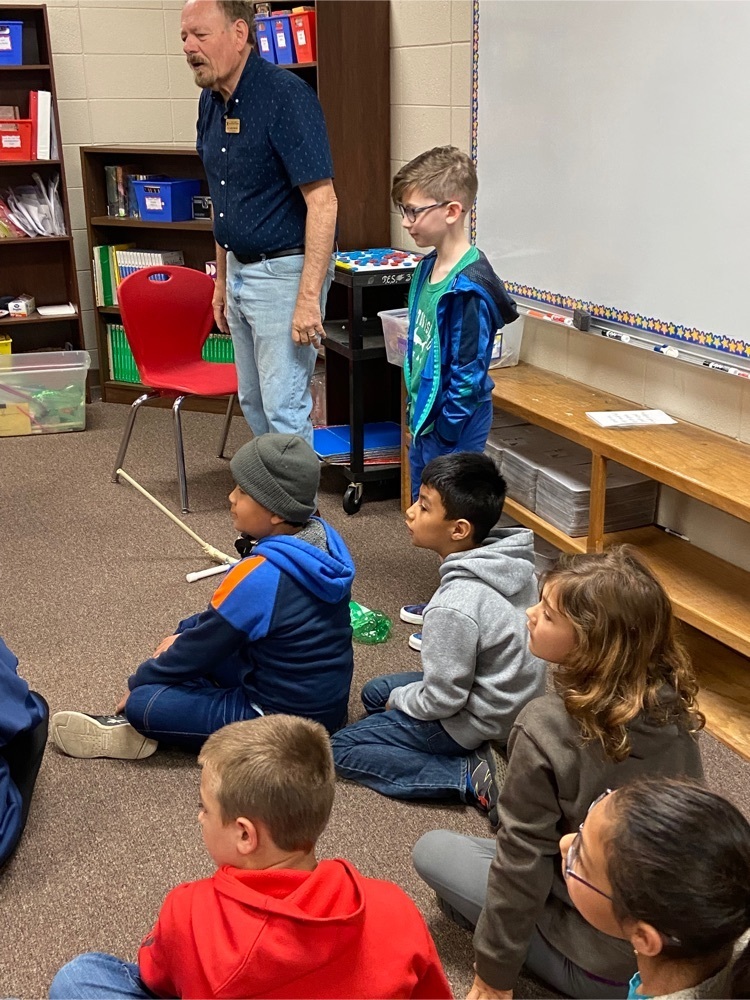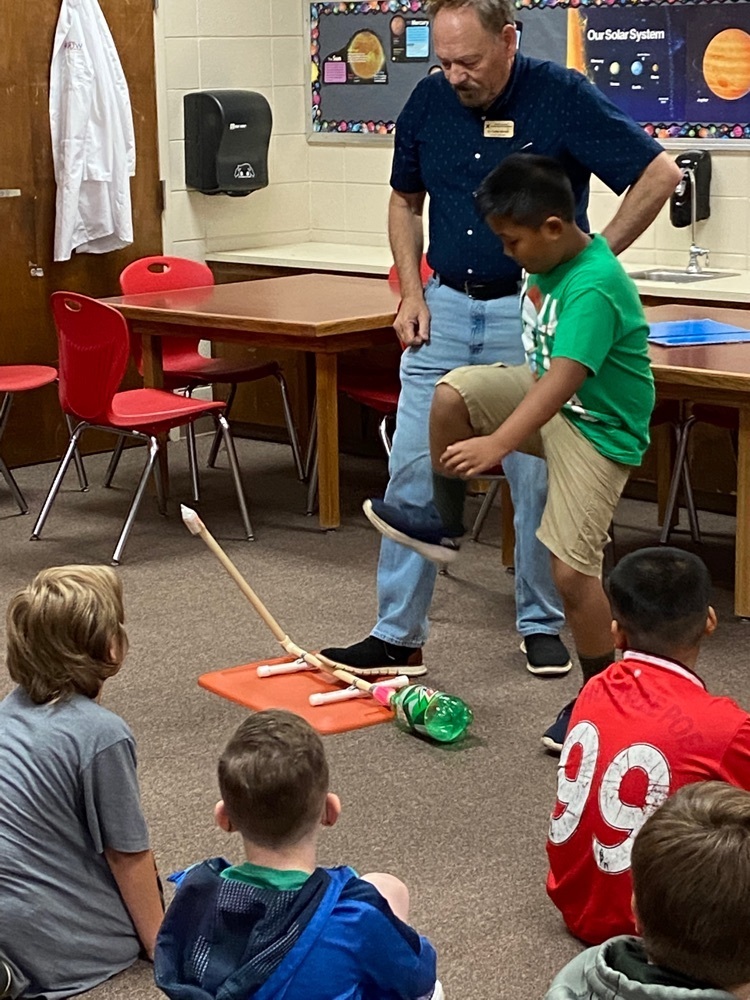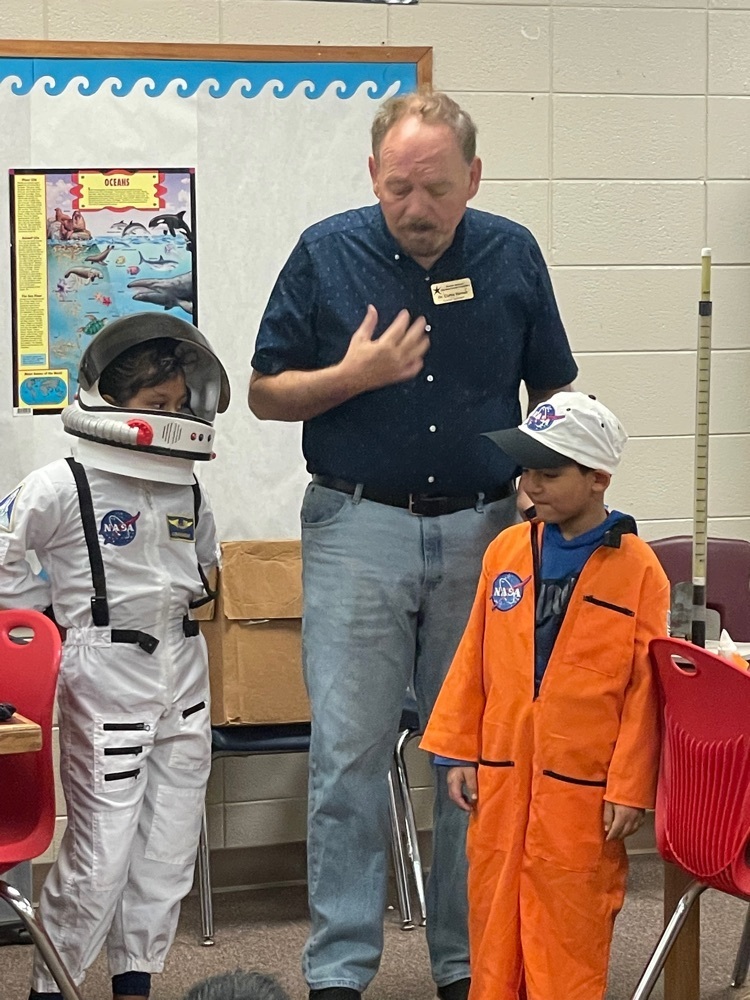 April Newsletter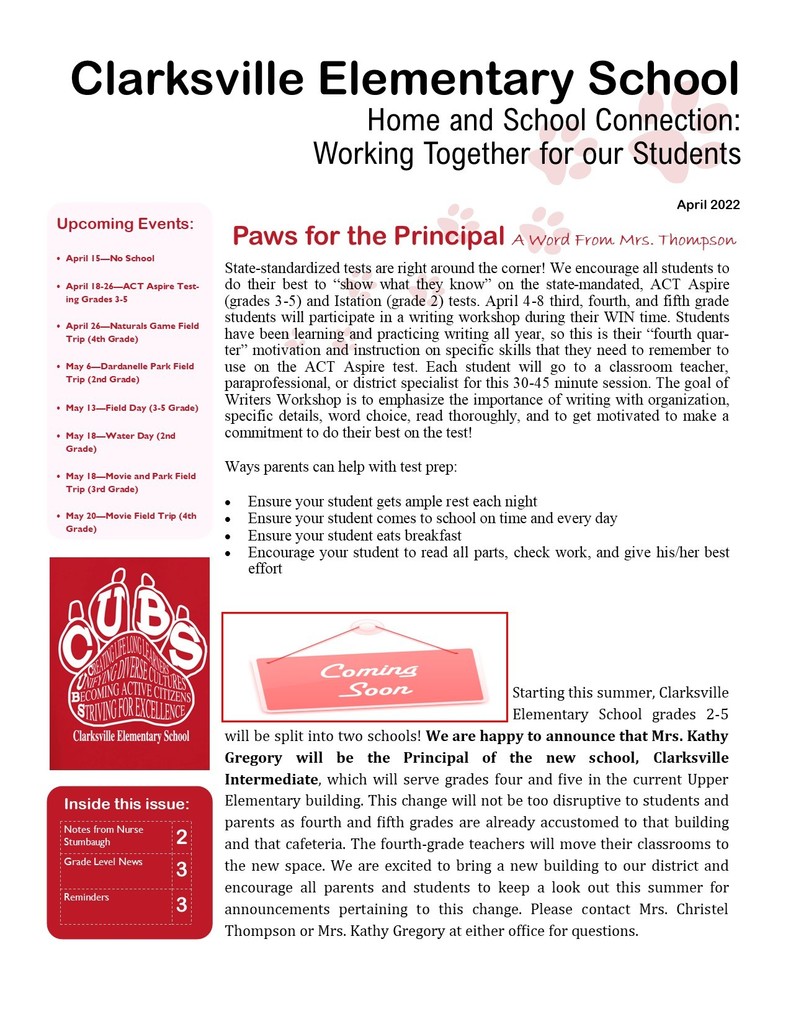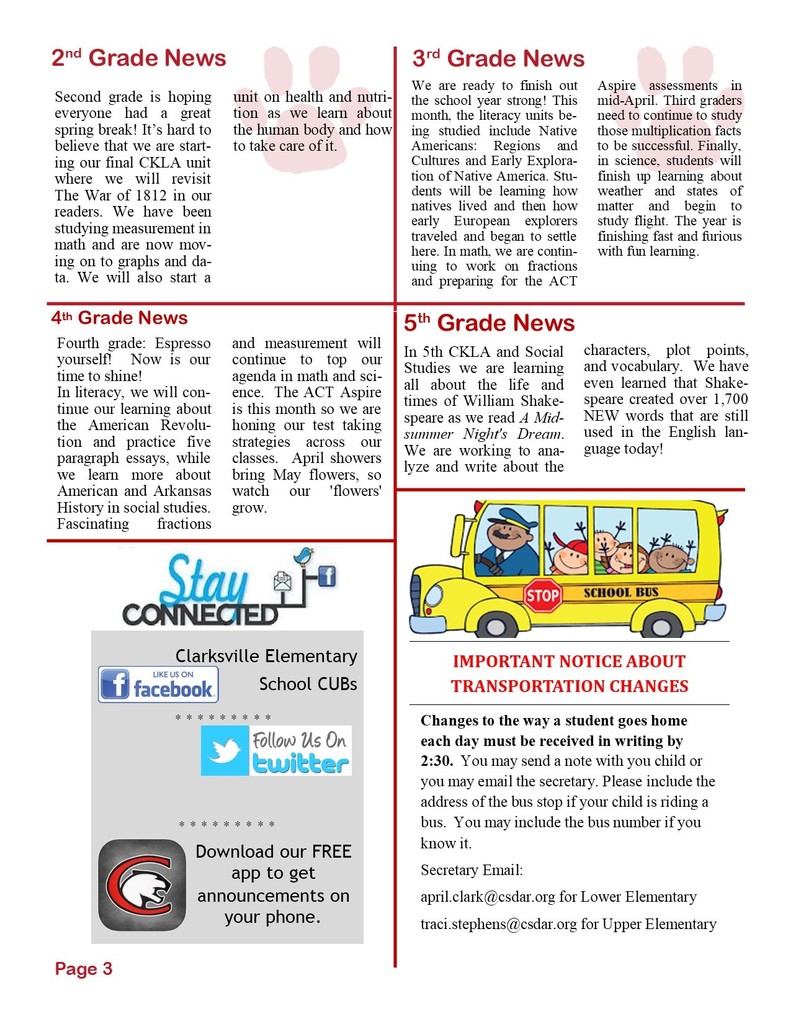 April Menus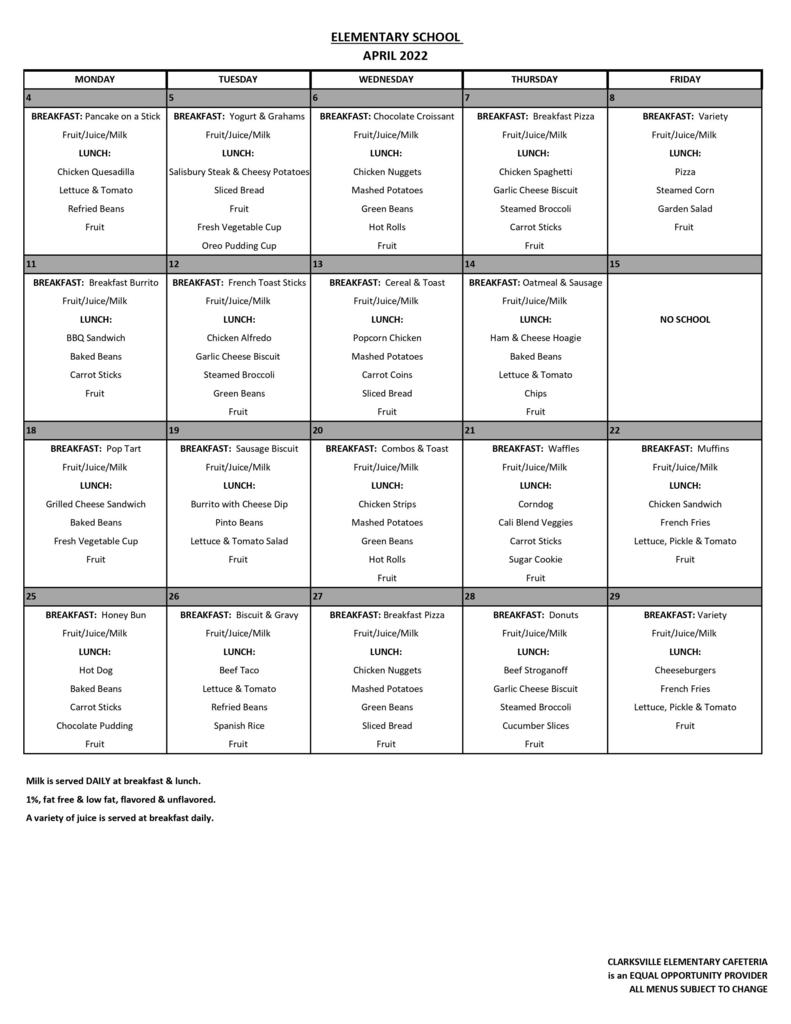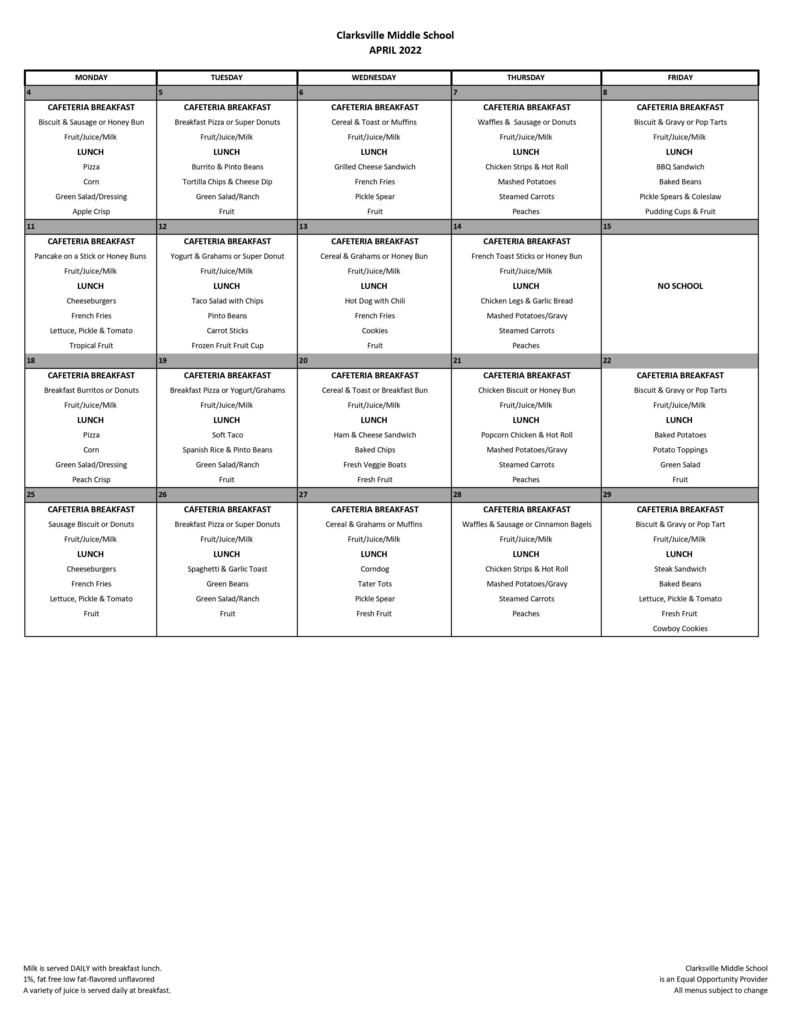 We are monitoring the weather and road conditions. At this time, temperatures are forecasted to hover just above freezing. Parents who are concerned about inclement weather may check out their students today, March 11, and have the absence excused. Families may also call the office to have their high school student released to drive home from campus. On-site instruction will continue and campuses will remain open throughout the school day. Buses will run their normal after school routes.

We may need to release school early today due to inclement weather. If we make the decision to do this we will notify all parents via our text message system and we will post the information on Facebook and our website.

March News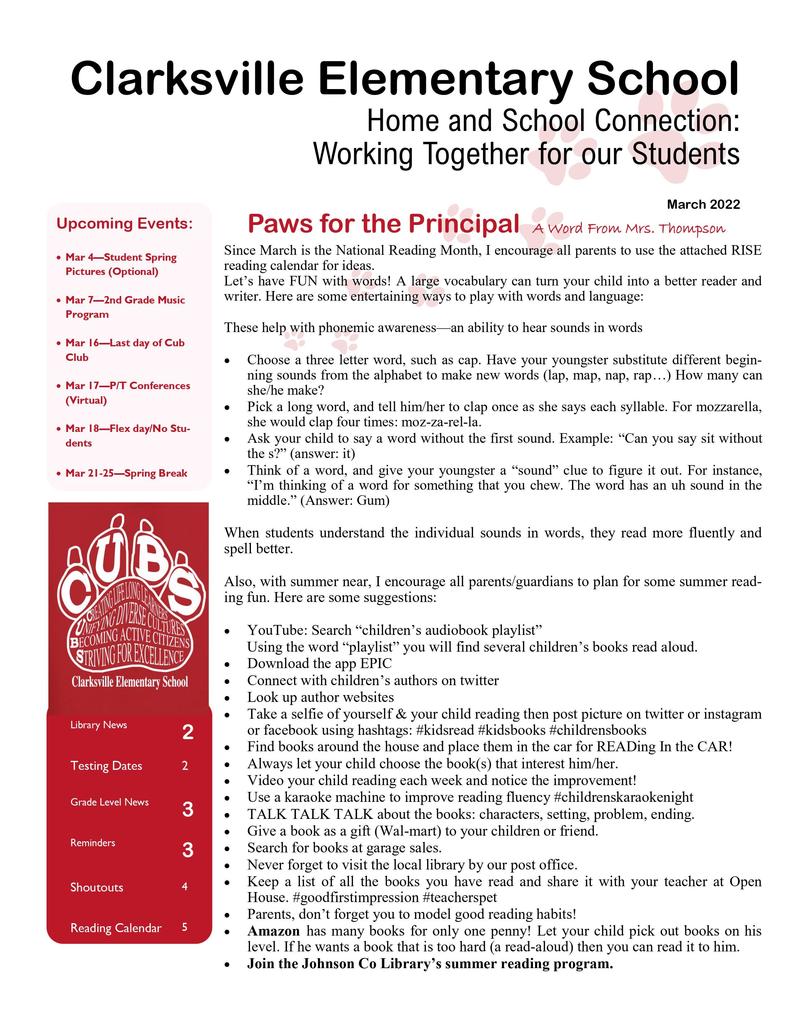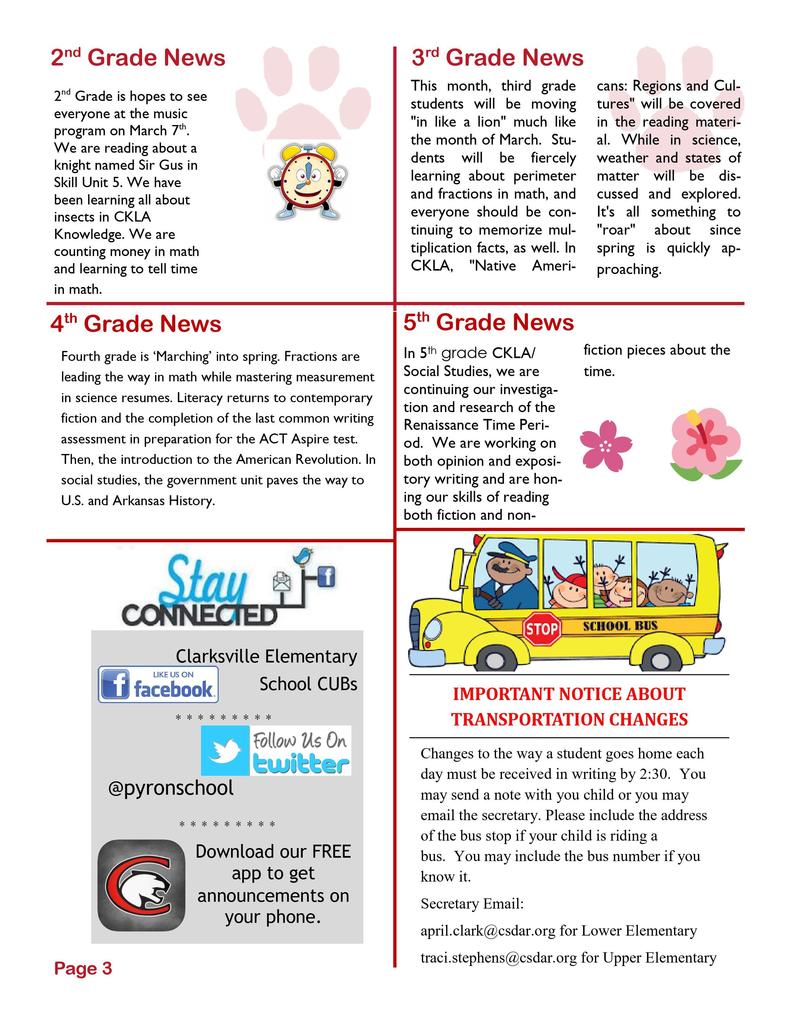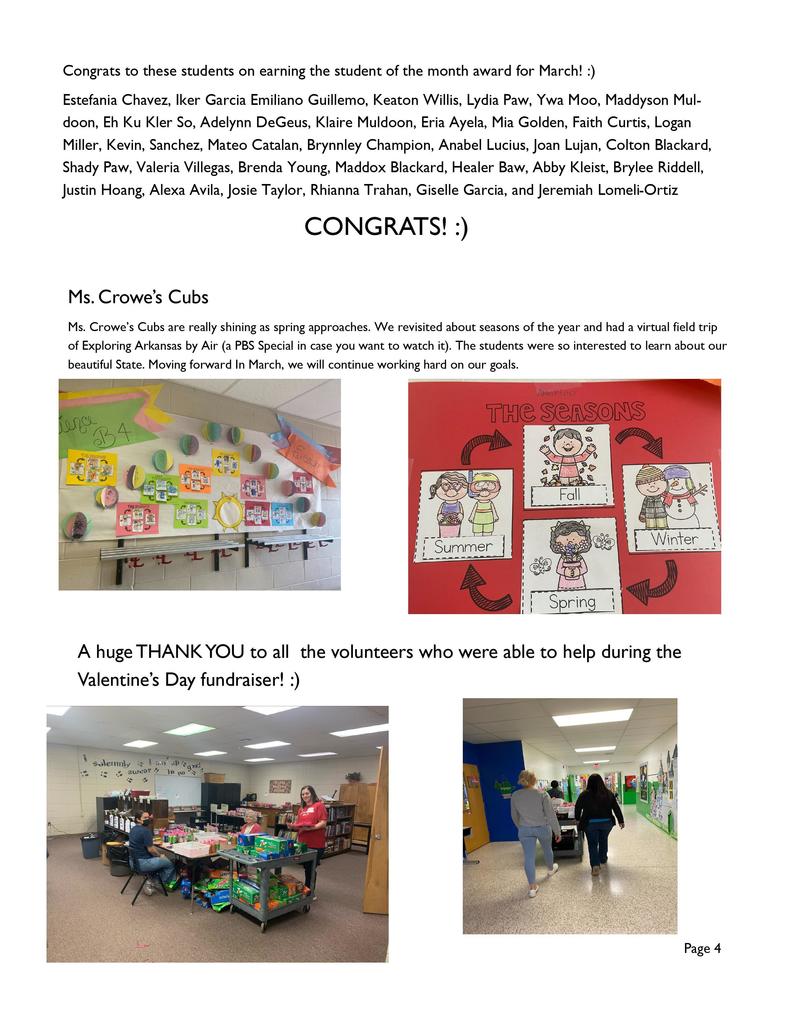 Field Day is coming soon for Grades 3-5. Order your child a t-shirt by April 1. Forms are coming home this week.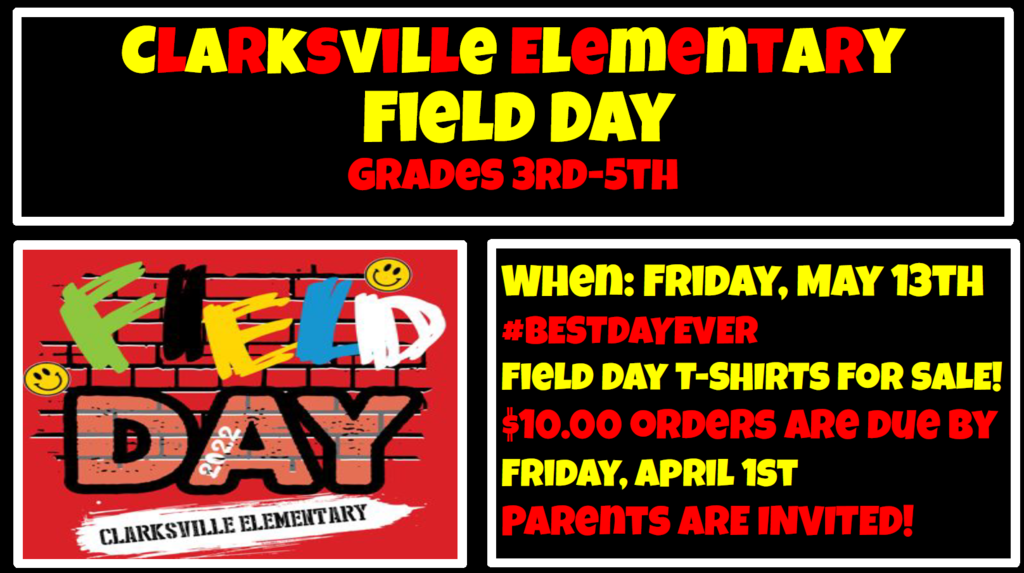 Lunch Menus March 2022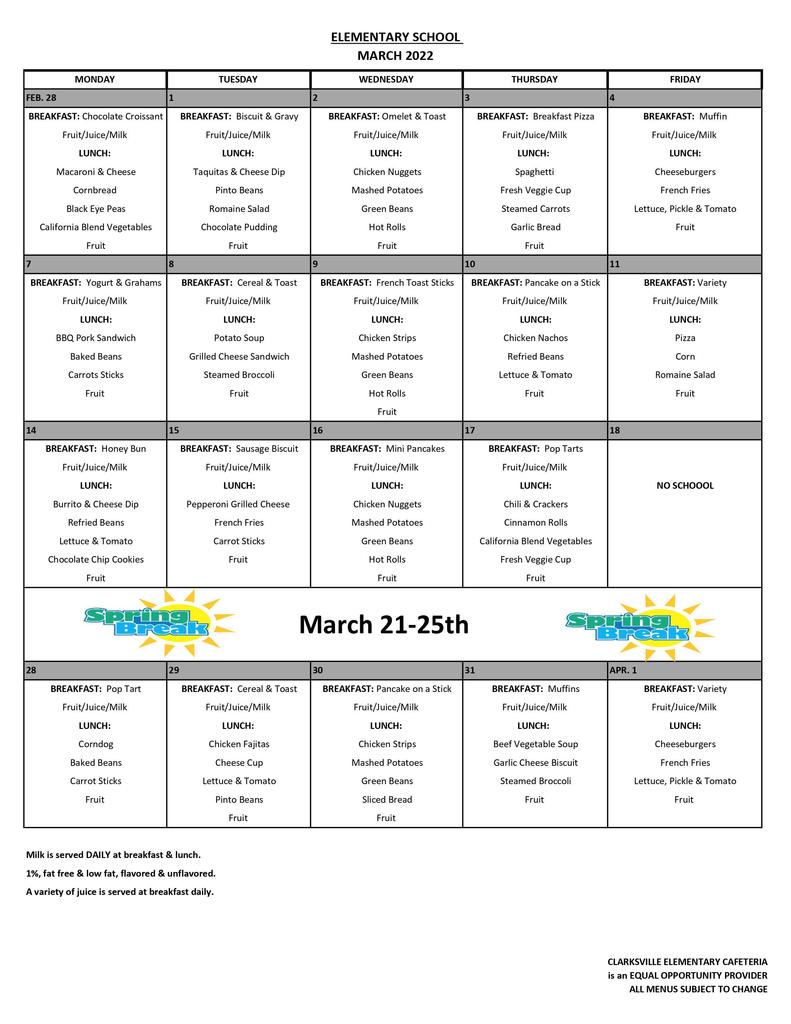 AMI day tomorrow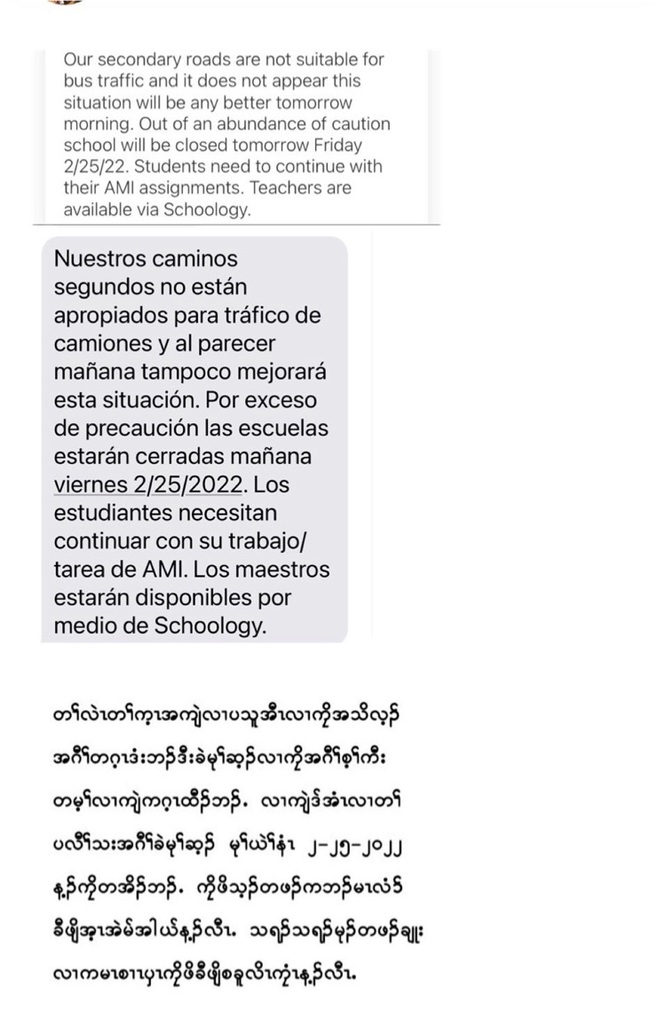 Clarksville Schools: No school for Thursday, 2-24-2022. Be sure to complete your AMI work so that you will be counted present. Teachers are available to help with questions via Schoology. Stay safe out there this weather is awful!

The administration is aware of rumors that have been circulating throughout the district regarding threats made toward the student body and faculty. We have investigated and located the origin of these threats. The Clarksville Police Department is assisting the district with this issue. At no time were any students or staff in danger.

Calendar as of 2/16/22 ***Notice the date change for individual spring pictures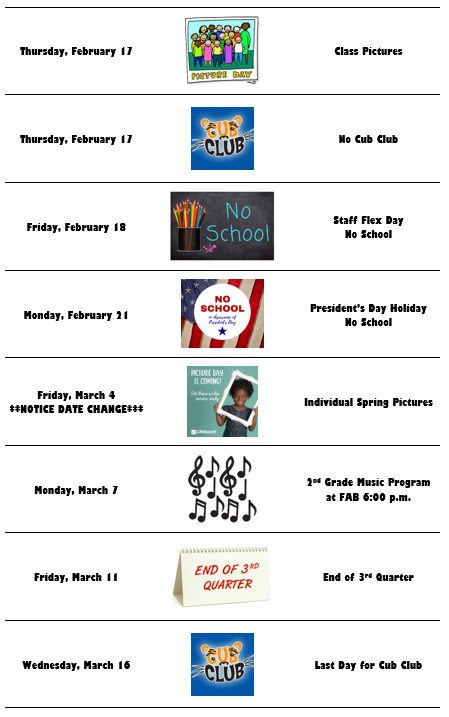 This week we celebrate National School Counseling Week. Shelly Frew works with our lower elementary students and Lindsey Werner works with our upper elementary students. These ladies provide guidance lessons, counseling, and so much more. CES is blessed to have them.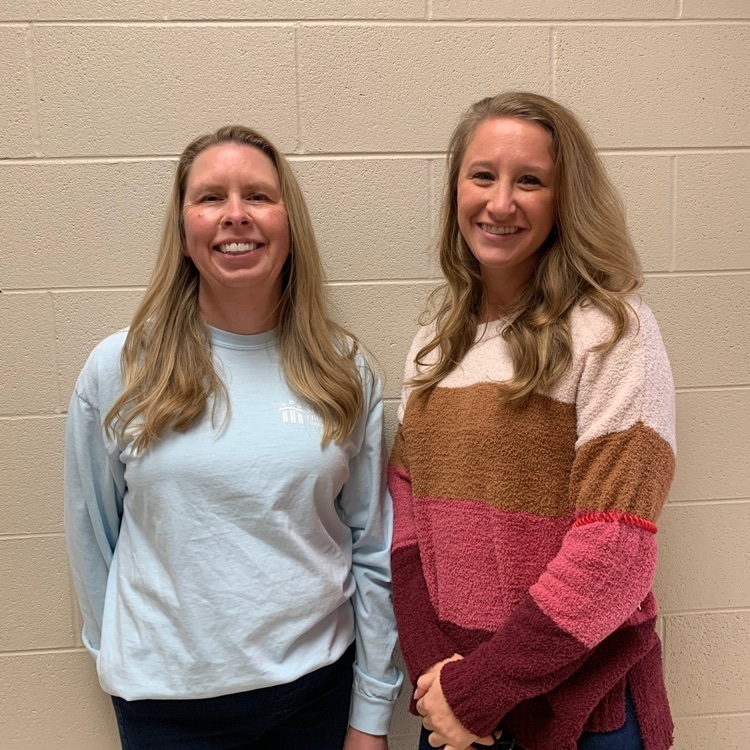 The Clarksville School Board met last night, February 7th, in response to the Governor ending the directives for students and staff to quarantine and mask. The board voted to end those mandates in both school facilities and buses. Student and staff illness will be handled in accordance with your child's student handbook and district policy, as it was prior to COVID-19. If you have any concerns, please contact your child's school office or the school nurse.

Clarksville Elementary PTO Valentine Fundraiser Students will be able to purchase soda pops for their friends for $1 each. The fundraiser is only for the Elementary school. Please keep in mind that we will NOT be able to deliver to students outside of the building. Your child has an order form. To order, return the form and the money by Friday, February 11th to your child's teacher. Soda Pops will be delivered to the recipients on Monday, February 14th. Due to supply limits, we will not take orders for specific soda pop flavors. If you have questions, you can email our volunteer coordinator at
gabriela.rivera@csdar.org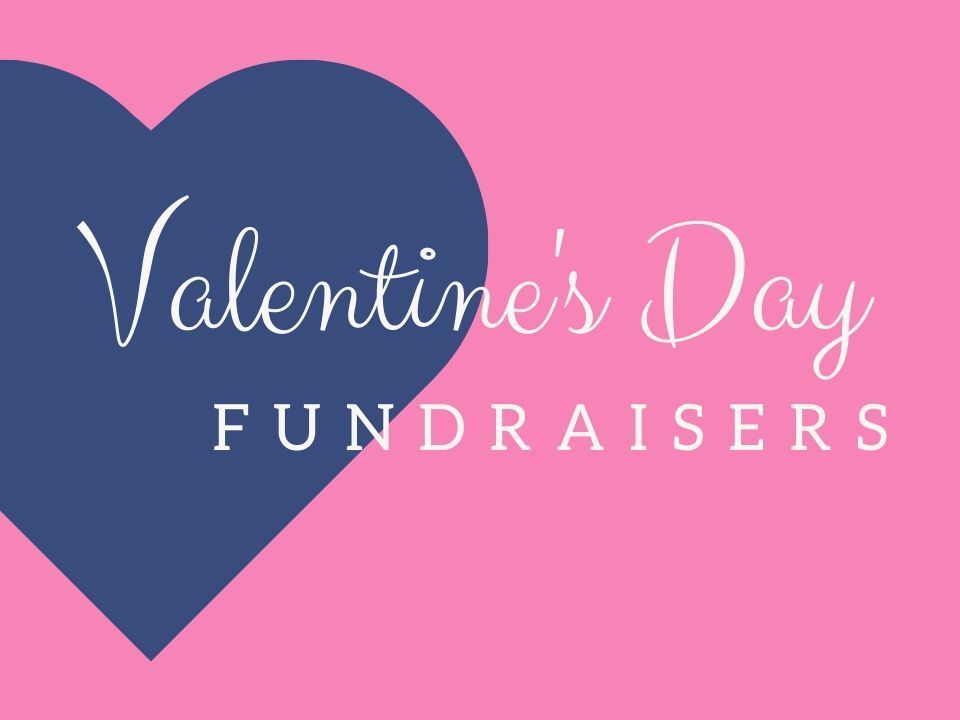 Group/class pictures are Feb. 17. 12.00 purchase is optional. Forms/envelopes were sent home. Purchase can be made online or sent in an envelope to school. See form/flyer attached if needed.

Don't forget…The 5th grade music program is this Monday at 6 p.m. 5th graders should arrive at 5:45.

No school 2/4 translations