If you want your child to receive the flu shot at school and have not returned the form, please return ASAP. Make sure both pages are completed.
Flu shots Thursday! See the image for important student reminders. Parents must sign the form, and the student must have it at school to receive a shot.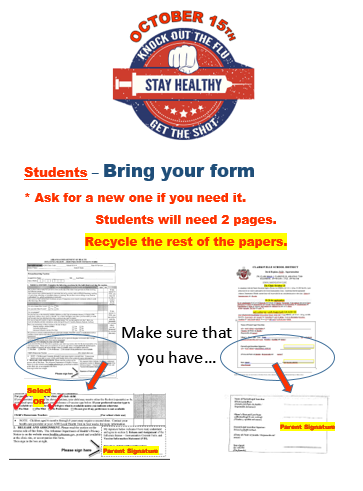 Reminder: Flu shots are Thursday, October 15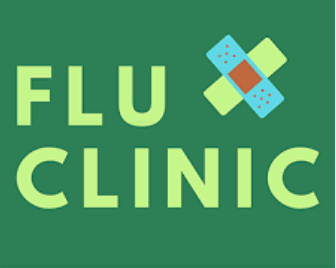 Our first virtual/blended Friday was a huge success! THANK YOU to all parents, board members, and community members for your support! We also want to give a huge shout out to CJH for volunteering in our building and to the Schoology team for all your help! Thank you!
Tomorrow, October 9th, will be our first Blended Friday. Students have the choice of staying home and working virtually, or coming to school to work virtually. Buses will run as usual. We do encourage our students to work virtually from home when possible, but if you need to send your child to school that option is also available. Teachers will utilizing this time to catch-up on lesson preparation and grading. **You can order meals for Virtual Fridays!! Meals need to be ordered by 9:00 a.m. Friday and may be picked up at the Junior High in the bus lane at the awning between 11:00 and Noon. Click the link below to order:
https://docs.google.com/forms/d/e/1FAIpQLSc8kikP_bku3MaEY0cYZRD8FT5mLUIUCDRAfWSYbAVOwkgeIg/viewform
Reminder: Tomorrow, Oct. 9 is our first "Virtual Friday." Students will bring home netbooks and chargers tonight. Students not attending school tomorrow will not be counted absent. Please contact your student's teacher or an administrator if you have questions.

Calendar as of October 7, 2020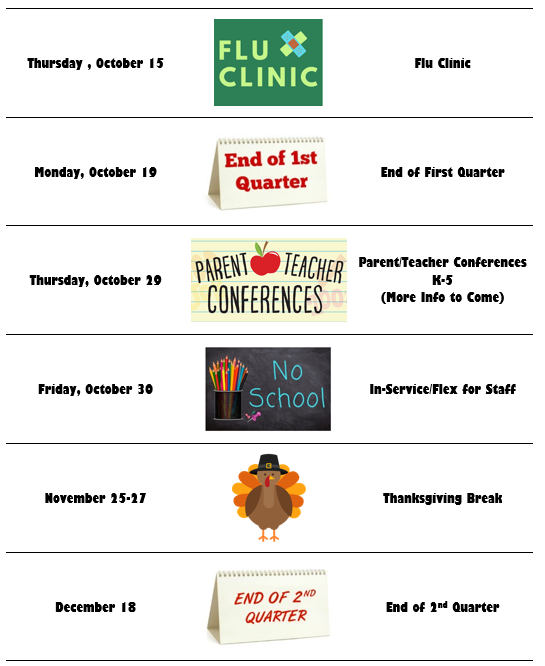 October Newsletter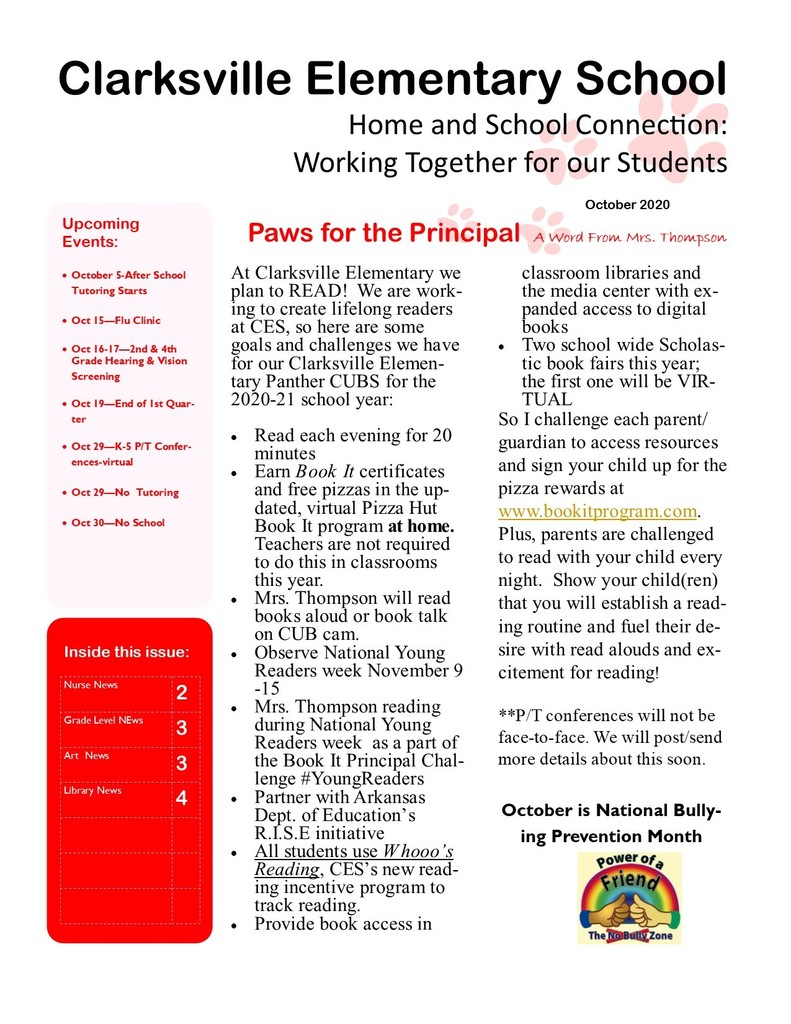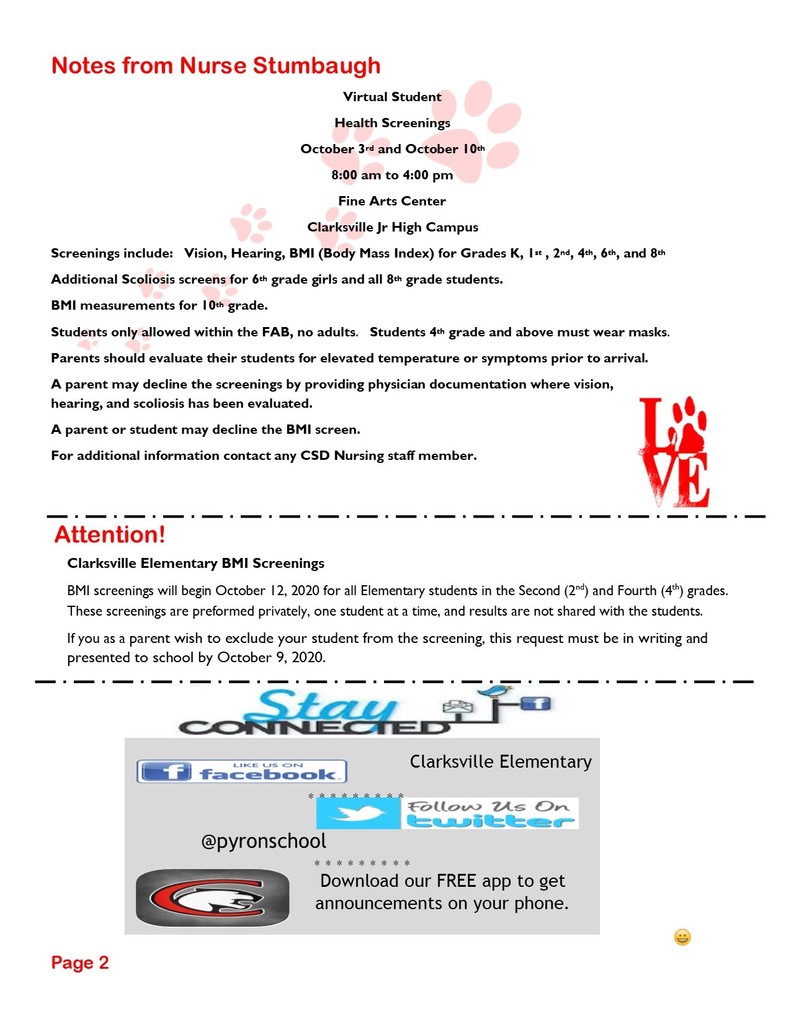 Homecoming Dress Up Days for NEXT Week
The Clarksville School Board recently approved a change to the district's Ready for Learning Plan. The change creates a 4+1 blended schedule. This means Monday through Thursday will be school as normal, but Friday will be a blended-virtual, and on-site day. The first blended day will begin Friday, October 9th. "Blended Fridays" give parents/students the option of learning from home or school. Students who choose to learn from home on Fridays will not be counted absent. Instruction on blended Fridays will be 100% virtual. These are catch-up days for teachers and students: there will be no new content taught or major assessments given. This change is being made primarily to help ease the burden on our faculty. We have listened and we trust the feedback received from our teachers: the amount of work required with our current model of instruction is not sustainable. Blended Fridays will give teachers protected time for the added tasks that have come with this unusual school year, and are designed to bring relief to everyone: parents, students, and staff. This is a hard time for all of us. We hope this will help. Meals will be provided to all students that choose to attend school on blended Fridays. Pickup meals will also be provided for virtual students. Buses will continue to run regular routes for the first two blended Fridays. However, starting on October 23rd, bus stops, routes, and times will be changing. We will provide updates on the busing adjustments. To see the Ready for Learning Plan, click on link below.
https://5il.co/lpp3
For further explanation, click video link below.
https://youtu.be/k3ZxoqQS4dg

All Clarksville Schools will be OPEN for onsite learning tomorrow, Tuesday, September 29. The following link will take you to a video explaining our situation.
https://youtu.be/FM7bpWc2QqQ

Las escuelas de Clarksville estarán cerradas al aprendizaje en el aula el lunes 28 de septiembre de 2020. La situación se reevaluará el lunes para determinar si la escuela puede reabrir o si el distrito debe permanecer cerrado al aprendizaje en el aula. Todos los maestros y el personal informarán como de costumbre para captar la atención a nuestros estudiantes a través del aprendizaje remoto. Todos los estudiantes deben continuar con sus clases mientras están en casa a través de Schoology. Esperamos tener una actualización sobre esta situación antes del cierre del lunes. Este cierre se debe a la cantidad de miembros del personal que actualmente están infectados o en cuarentena debido al COVID-19. Consulte los archivos adjuntos sobre la distribución de comidas escolares. Si tiene alguna inquietud o pregunta, comuníquese con el director de la escuela de su estudiante o con la oficina del superintendente.

Clarksville Schools will be closed to onsite learning Monday, September 25, 2020. The situation will be reevaluated Monday to determine if school can reopen, or if the district should remain closed to onsite learning. All faculty and staff will report as usual to engage our students through remote learning. All students need to continue with their classes while at home via Schoology. We hope to have an update on this situation by close of business Monday. This closure is due to the number of staff members that are currently infected or under quarantine due to COVID-19. Please see attachments regarding school meal distributions. If you have any concerns please contact your child's building principal or the superintendent's office.
https://5il.co/lhhq
https://5il.co/lhhu
https://5il.co/lhhp
Health screenings for virtual students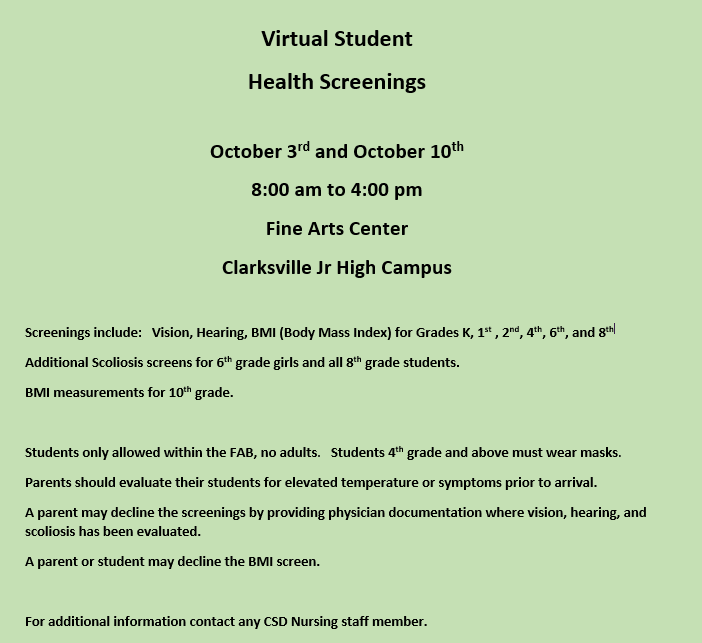 Picture Day was today! If you forgot to send money, you still have 48 hours to order. You must order through the website mylifetouch.com. Enter our Picture Day ID EVTTDTVZS.

Picture day is this Thursday!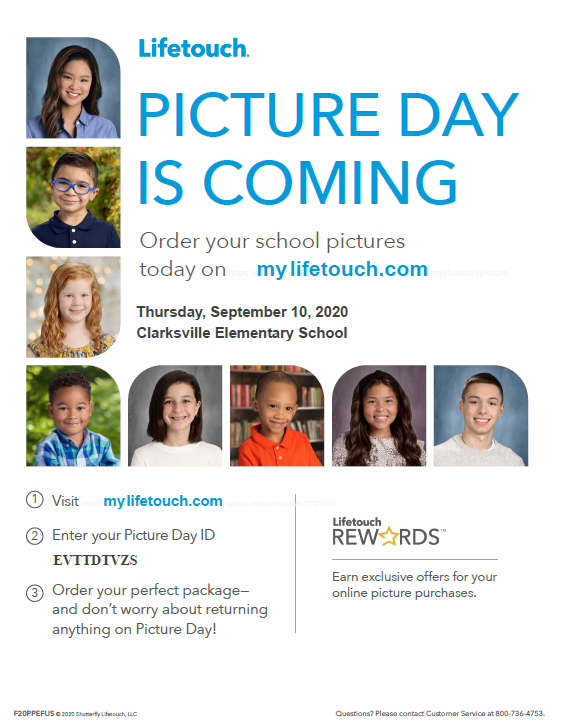 Parents and Students, I am attaching a video that shows you how to check for missing assignments. Remember, there are videos/lessons that you need to complete before completing the actual assignment, so check in your course to make sure you have received the instruction you need before completing assignments.
https://youtu.be/8vZ9agvQKxA

No School on Monday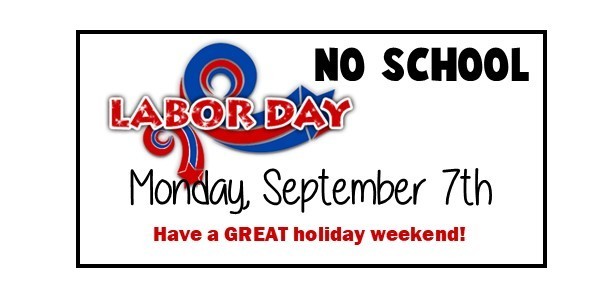 Weekly Menus can also be found on our webpage using the red dining tab at the top of the page. Remember some of our students eat in the middle school cafeteria, so I am attaching both menus.