Please use this screening tool before school each day. If the answer to any of the questions is yes, please do not come to school.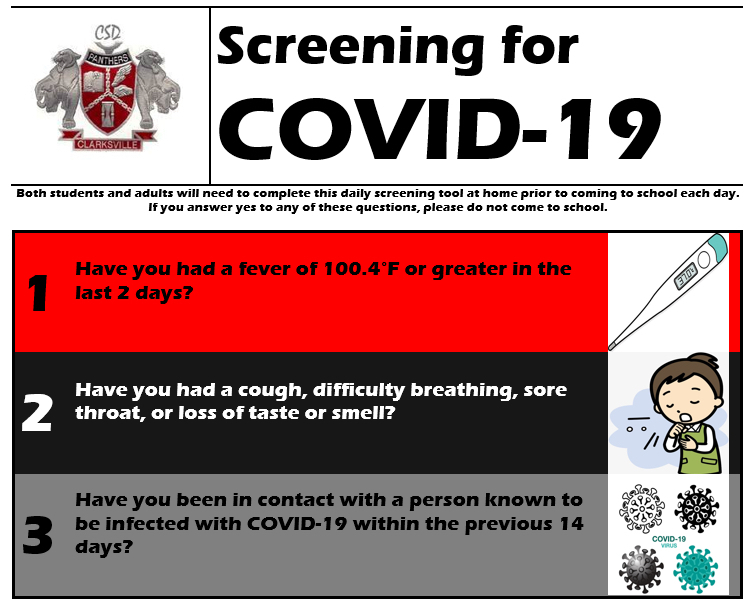 The Link Church today August 12th, while supplies last we will be giving away groceries from 11:00 a.m.-2:00 p.m. at the Old Masonic Lodge in Clarksville on Cherry St. This is in front of City Hall. It will be drive through and we will load in your car as you pull through. Below is an example of some of the items. Remember each box may vary and it is only while supplies last. Please share.

ATTENTION CJH ONLINE STUDENTS If you are going to study online this year you will be able to pick up your computer on August 17th from 10:00-3:00. You must return all of your required paperwork in order to be issued a computer. You will MUST log in to your computer before leaving campus in order for it to work properly off campus


Schedules will be available for pickup beginning Monday, August 10. They will be available in the Fine Arts Lobby Monday through Thursday of next week from 8-11 and 1-3 each day. Masks must be worn when picking up schedules and social distancing must be followed.


Clarksville parents, I have made a video to help explain the plans our district will use for the return to onsite learning on August 24th. For more information please contact the school where your child attends.
https://youtu.be/Pfl5LmQ4Aa4

CJH Open House will be held on Thursday, August 20 from 1:00-6:00 pm. Due to Covid-19 only 8th grade students and those 9th grade students who are new to the district will be able to attend. Each of those students may be accompanied by 1 adult only. Masks must be worn by all attending. Entrance and exit will be through the Fine Arts lobby doors. Physical distancing must be observed at all times.

Supply Lists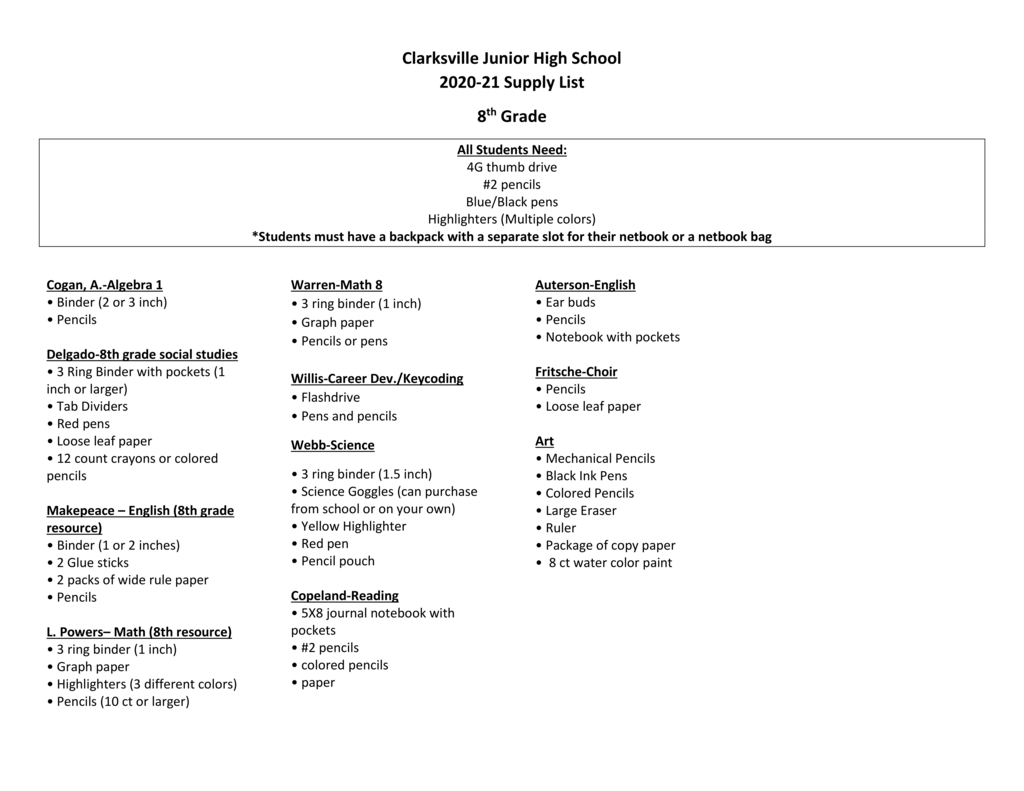 Hard copies of the Remote Learning Contract can be picked up and/dropped off at the Junior High entrance during regular hours. You may email your completed contract to
chase.carter@csdar.org
.