Homecoming is next week. CIS students can show their school spirit with the following dress up days. Monday-PJ Day Tuesday-Tie Day Tuesday Wednesday-Disney Day Thursday-Hat and Shades Day Friday-Wear Red, Black, or White

Fall pictures at CIS are tomorrow, Monday, October 2. You can order online at inter-state.com/order with the code 80028DA or you can send a cash or check to school. Please send exact change.

October News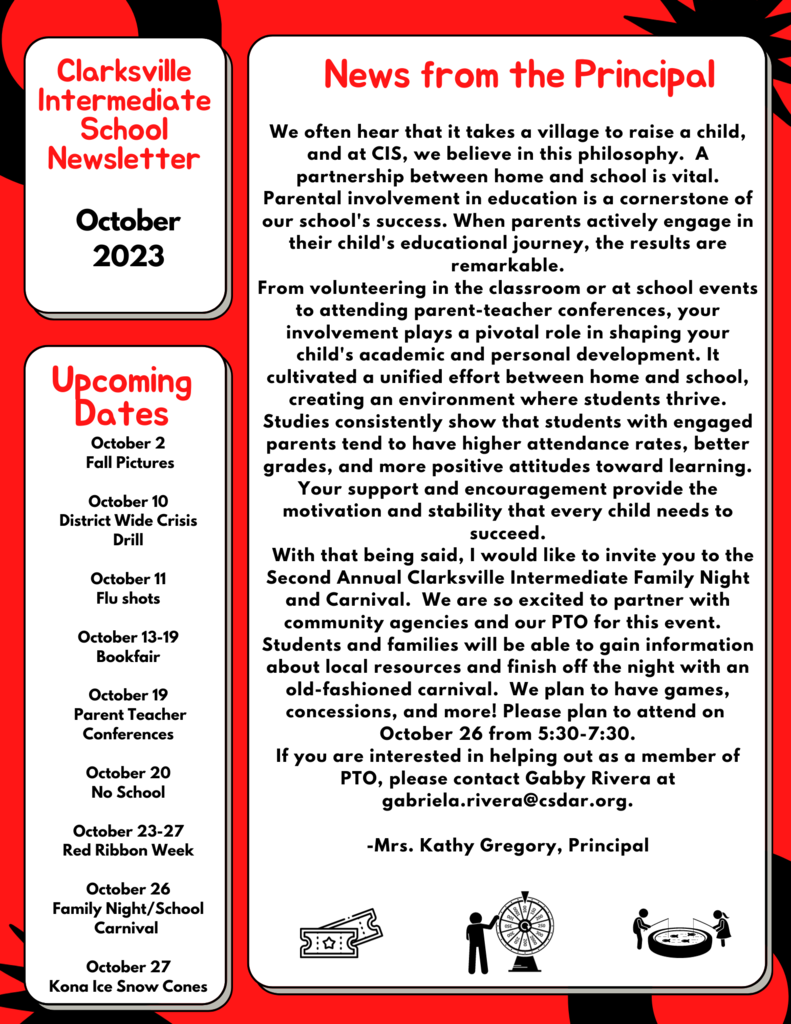 Calendar as of 9/29/23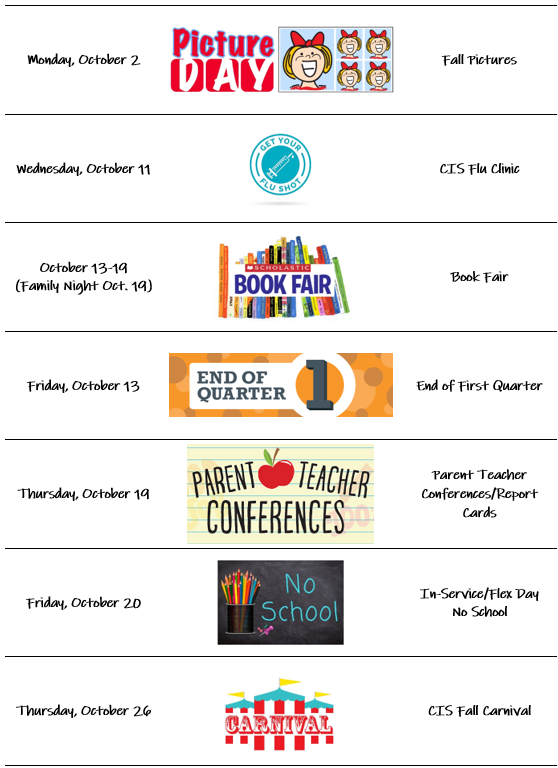 Fall pictures are on Monday, October 2. You can order online at inter-state.com/order with the code 80028DA or you can send a cash or check to school. Please send exact change.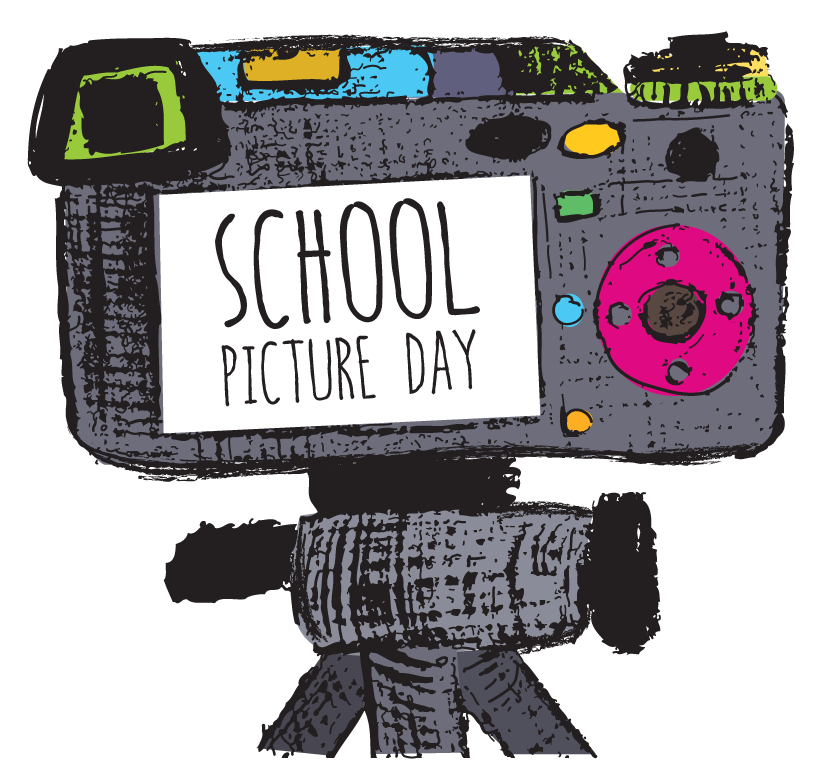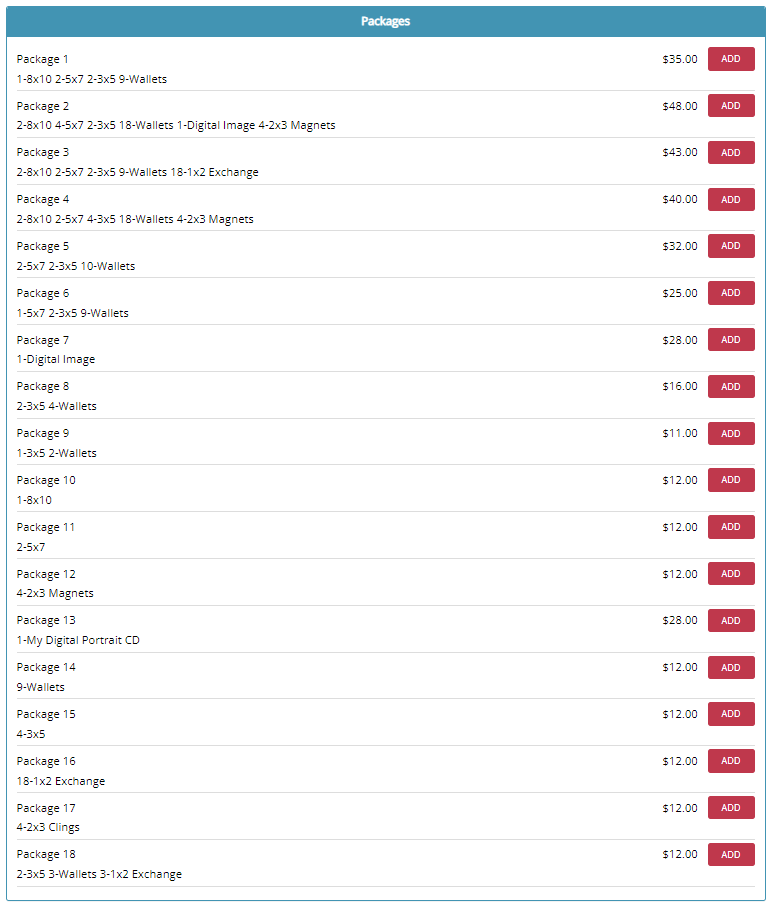 Students are required to have a Tdap immunization following their 11th birthday. This requirement is for all school districts. While planning for the Tdap, please ask about the MCV4. It must be administered by the 12th birthday. This can be given at the same time as the Tdap and will meet your student's immunization requirement for school until their 16th birthday. Immunizations must be current prior to school starting. All other immunizations must be up to date as well. If you do not wish to have your child immunized, you must provide the school with your exemption letter from the state.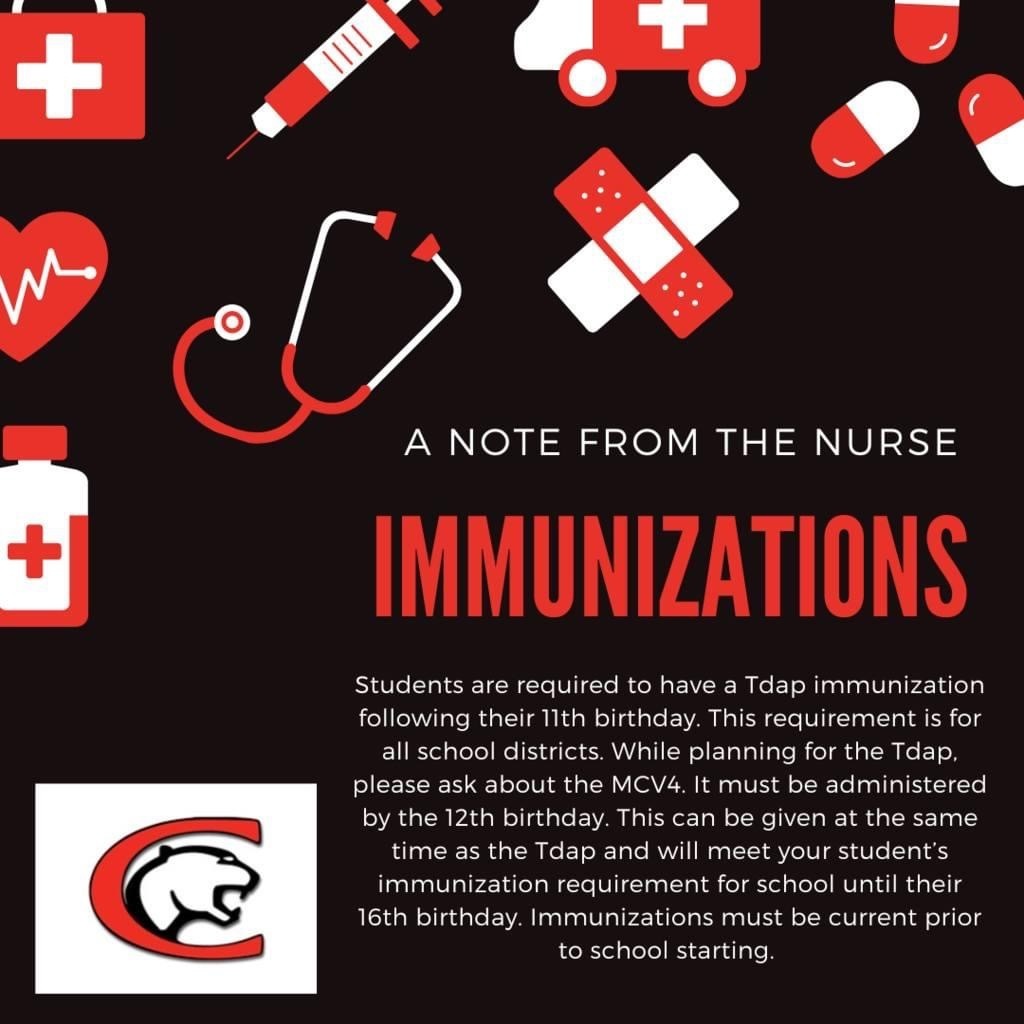 Attention All Future and Current Beta Club Members at CIS: All Beta forms and fees are due in ONE WEEK, 9/27, to Mrs. Hollingsworth by 3 pm. Please take care of this as soon as possible.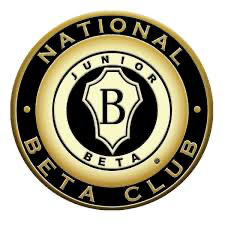 Calendar as of 9/19/23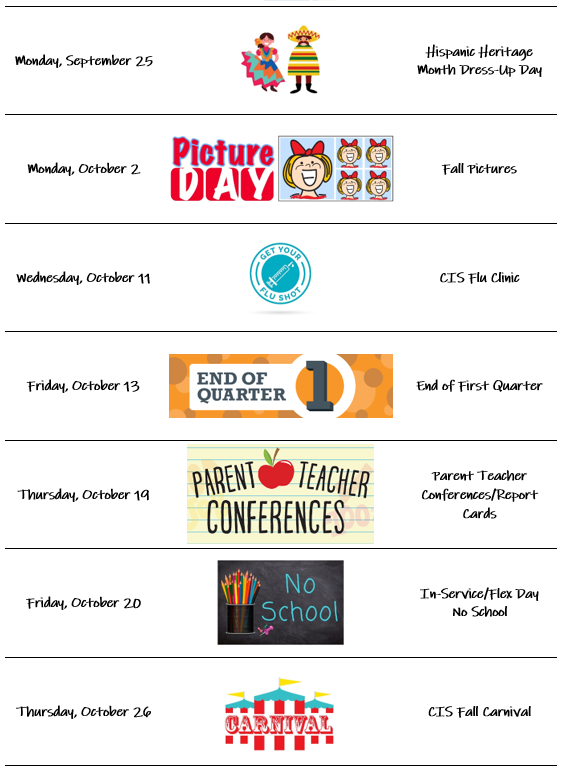 Hispanic Heritage Month runs from Friday, September 15 to Sunday, October 15. During this month of celebration, we pay tribute to the histories, cultures, and contributions of Americans whose ancestors came from Spain, Mexico, the Caribbean, and Central and South America. In honor of Hispanic Heritage Month, CIS students are encouraged to dress up on Monday, September 25 in traditional Hispanic clothing to celebrate this occasion.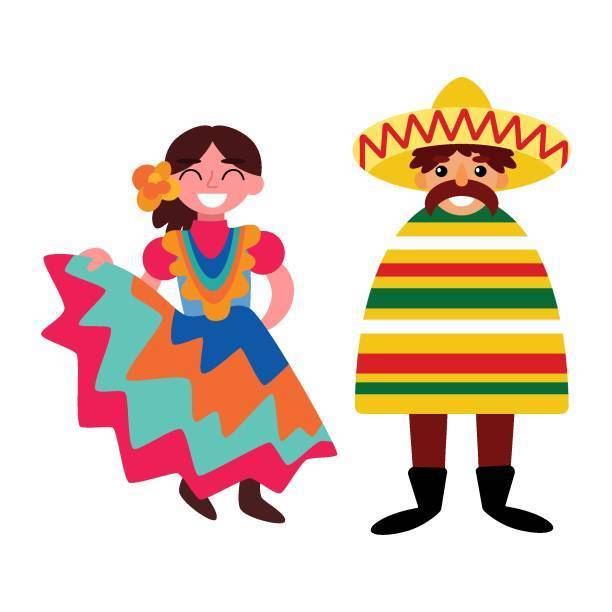 In accordance with state policy, our school nurse will be screening all 4th graders' vision and hearing beginning on September 26 and continuing into October . If your child has glasses or hearing aids, please make sure they are wearing them every day.

We are excited to inform you that we are now accepting applications for the 2023-2024 Clarksville Elementary/Clarksville Intermediate School Robotics Team. The selected competition teams will meet after school one day a week. During competition season, our teams may be required to meet more often including some Saturdays due to all day tournaments. We are looking for a limited number of students who will be in 3rd, 4th and 5th grades for the 2023-2024 school year who demonstrate teamwork, creativity, critical thinking, and commitment. Each candidate must complete and return this application form online by Friday, September 15, 2023 by 2:30 PM. 1. Current 3rd, 4th & 5th grade students may apply. 2. Past team members must reapply. 3. No applications will be accepted after Friday, September 15, 2023 at 2:30 PM. The completed application must include: 1. A fully completed online application. 2. The completed participation agreement. An onsite evaluation of students' abilities to collaborate with others and build/drive VEX robots will occur next week. All applications will be reviewed by the Clarksville Elementary/Intermediate School Robotics Team committee. The committee will consider a combination of factors including completion of application, student performance of VEX challenges, and teacher evaluation. A limited number of students will be invited to join the Clarksville Elementary/Clarksville Intermediate School Robotics Team. An email or a letter will notify the parents of the committee's decision. You can apply online at
https://docs.google.com/forms/d/e/1FAIpQLScZCHsmAYqfsrAzowvbGX25NUMNSN7AZB6ni-la6ZdlKoSjnA/viewform?usp=sf_link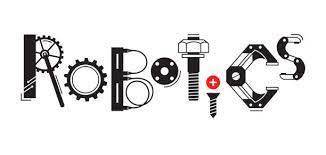 If you would like to order a CIS t-shirt, please send $12 to school in the morning. We will be placing the order tomorrow.

We hope everyone enjoys their three day weekend. We can't wait to see you on Tuesday.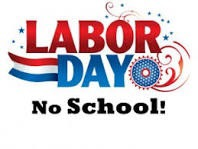 Clarksville Intermediate School September News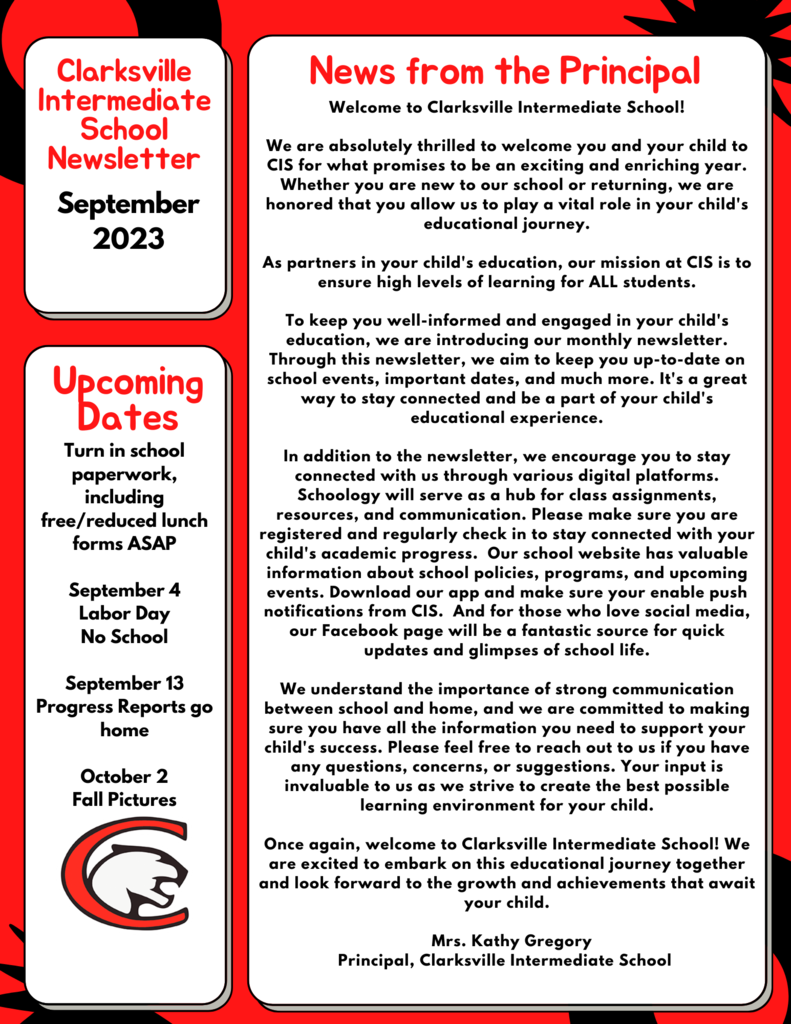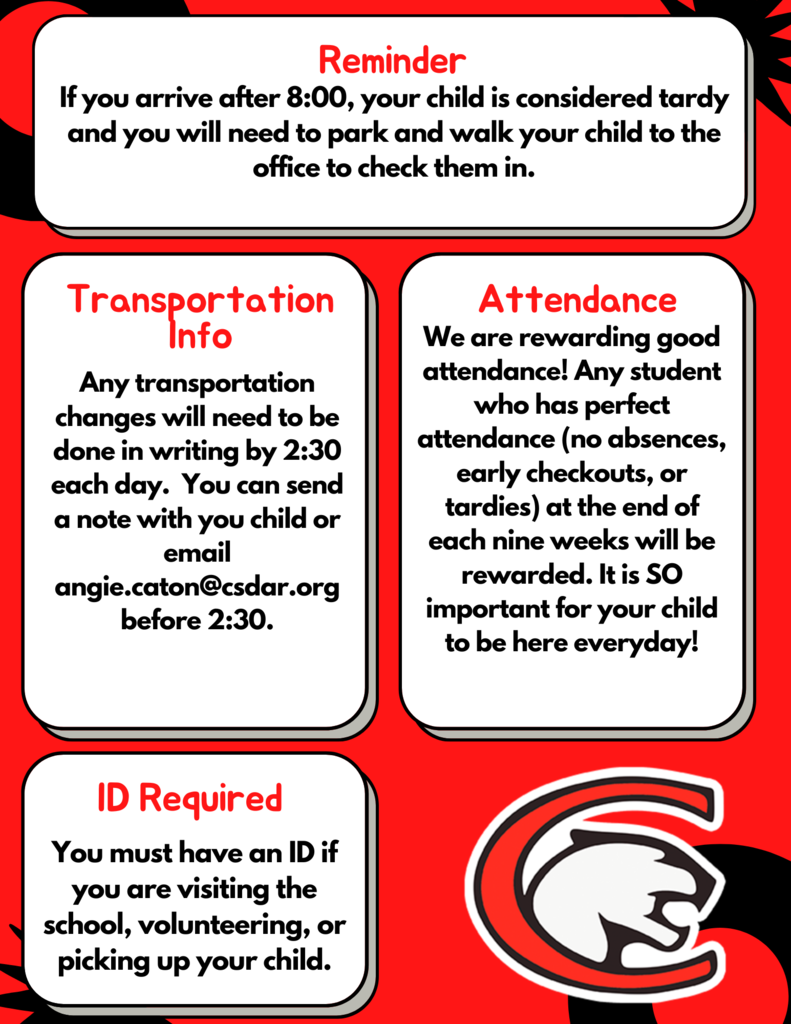 Last night the Clarksville School Board approved the recommendation from our Licensed and Classified PPC groups to change the flex day on April 19th to April 8th. This means the district will be closed on the day of the solar eclipse. You can find a copy of the updated school calendar on the webpage, Facebook, and Schoology.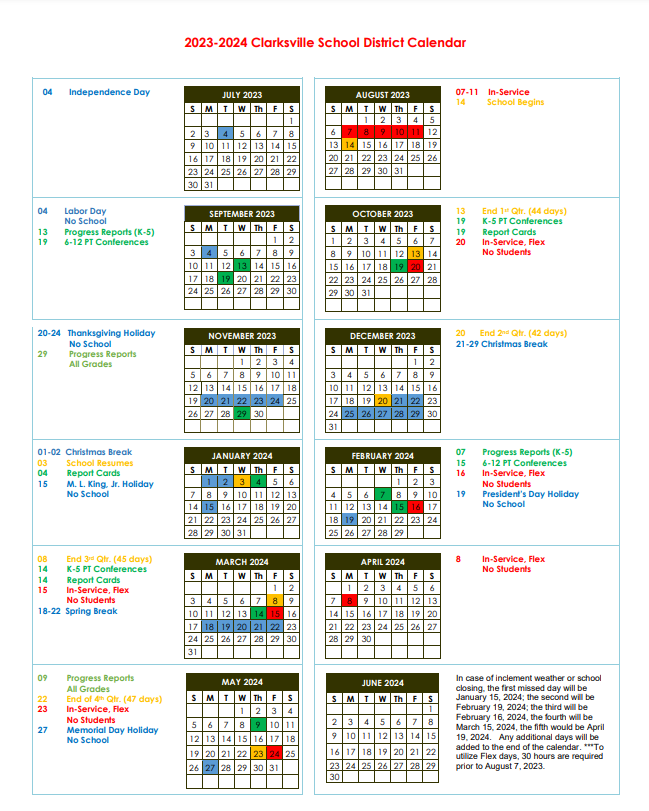 Clarksville Intermediate School is selling t-shirts for $12. We will be placing the order on September 6th. Payment must be received with the order. Forms will be coming home this week. If you lose your form, you can just send the money and a note with the sizes.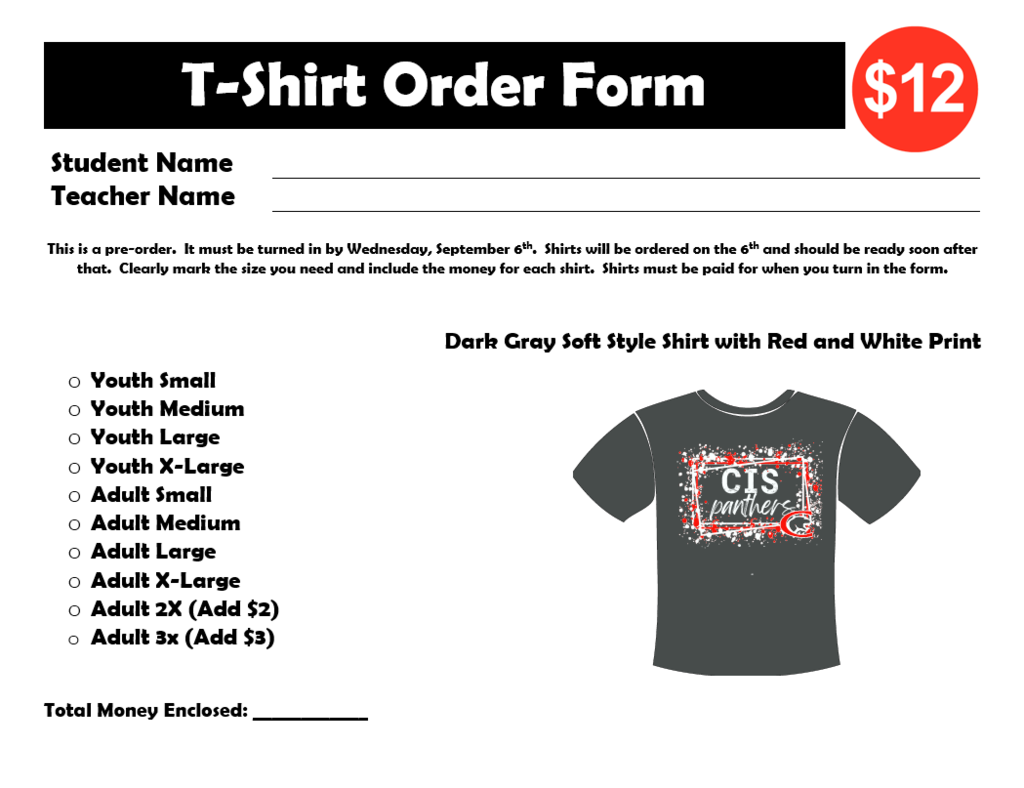 Home football games start this week. If CIS students attend the game, they need to come with an adult. They must stay in the bleachers with that adult unless they are using the restroom on in line at the concession stand. Students are there to watch the game and support the team.

Make sure you aren't missing important information from CIS! Turn on notifications in the Clarksville School District app. Download the Clarksville School District app from the Apple Store or Google Play, then follow the directions in this video to make sure important info is coming straight to your phone.
https://youtu.be/9a5vMzu0N00

CIS Calendar as of 8/21/23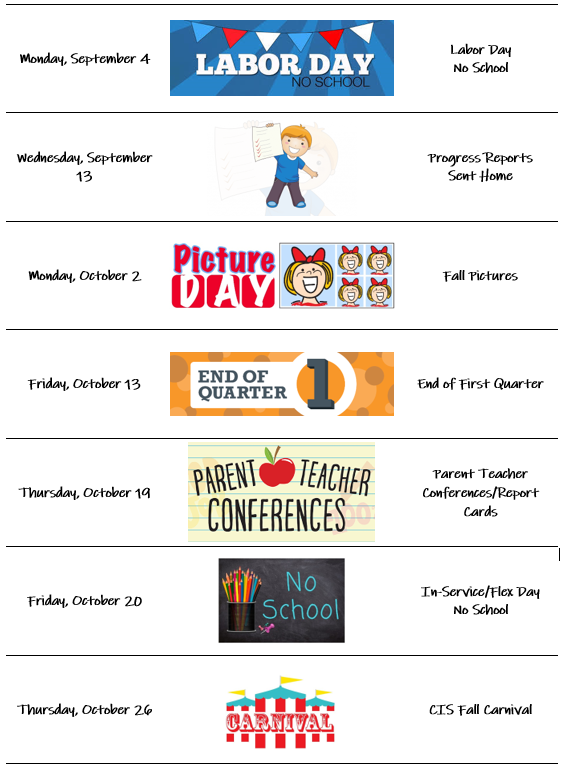 School begins Monday. Students can be dropped off between 7:30-8:00 AM. Please allow extra time due to traffic. Students arriving after 8:00 AM must be walked in to the office. Please watch the following video for important information about Clarksville Intermediate School. We cannot wait to see you!
https://youtu.be/OnwGmeLLUpQ