The Clarksville School Board voted unanimously to enact a mask mandate for all students and adults while indoors at school or school activities and on school transportation. Masks will not be required outdoors or when actively participating in athletics or band. The board will reconsider the mandate at its regular September meeting.
Clarksville School District is partnering with ARcare to provide a telehealth option for students and staff.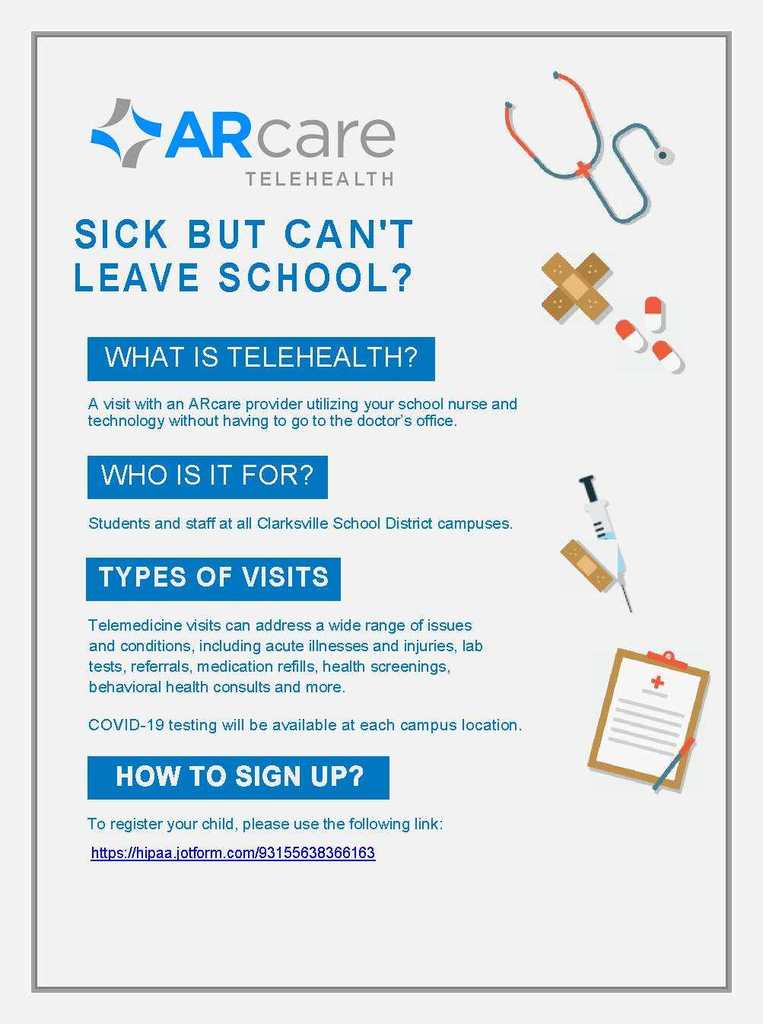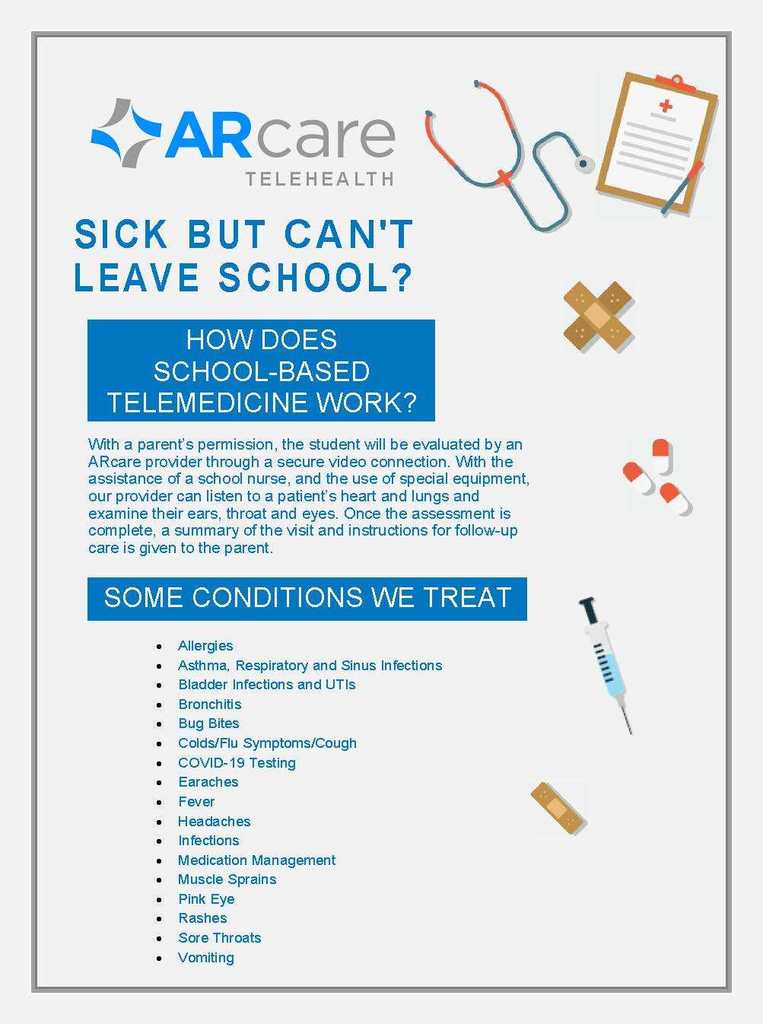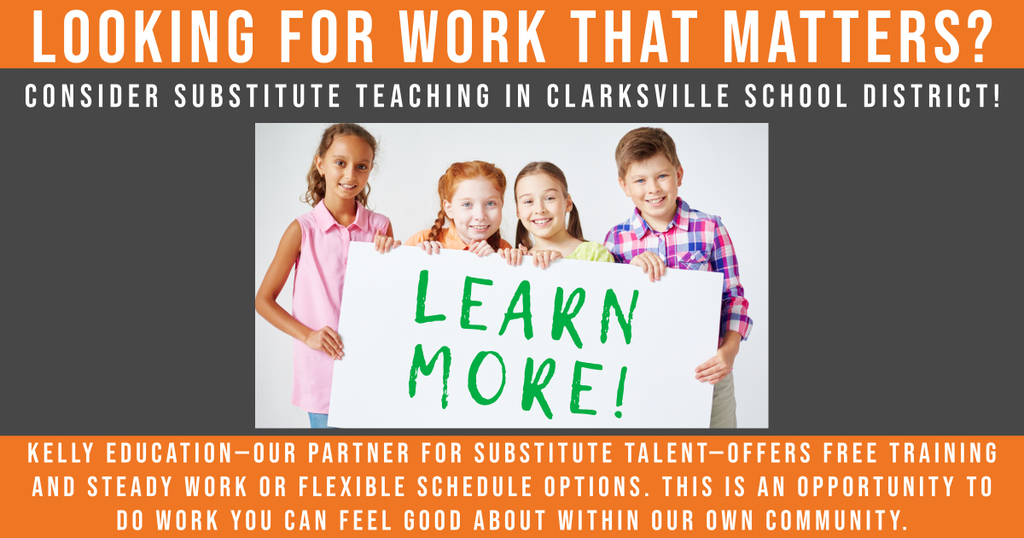 Clarksville High School will have a drop in open house on Thursday, August 12th from 1:30-6:00. This will be for sophomores, new students, and students who were virtual last year and were not on campus. Masks are recommended.

The application period for Clarksville Virtual Learning has been extended to August 13. You may visit
https://www.csdar.org/o/csd/page/clarksville-virtual-learning
for information and to apply. Space is limited and enrollment will close on 8/13. If you have questions, please call your building principal.
Students who are enrolled in the CATS and nursing programs and are seeking concurrent credit through UACCM for the 2021-2022 school year have one more opportunity to earn qualifying scores before school starts. The Accuplacer will be administered at CHS on August 5, 2021 @ 12:30 P.M. If you wish to take the exam, please call the office and place your name on the list. Deadline to sign up will be noon on August 4th.
Schedule Pick Up Information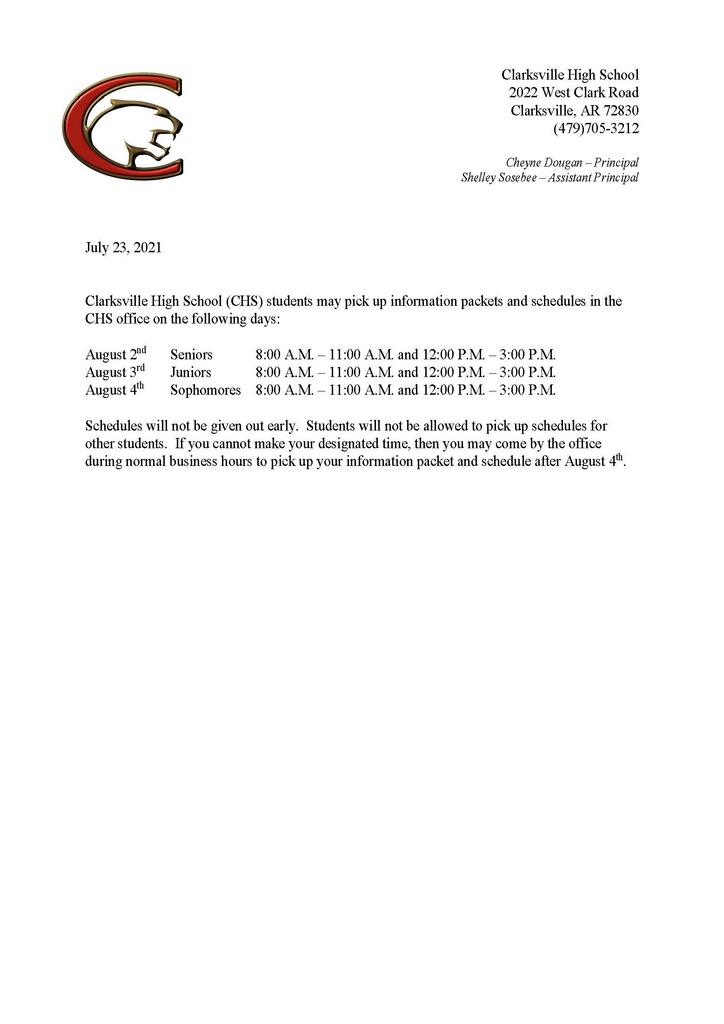 USDA has granted a waiver to the district to extend free meals to all students for the entire 2021-2022 school year.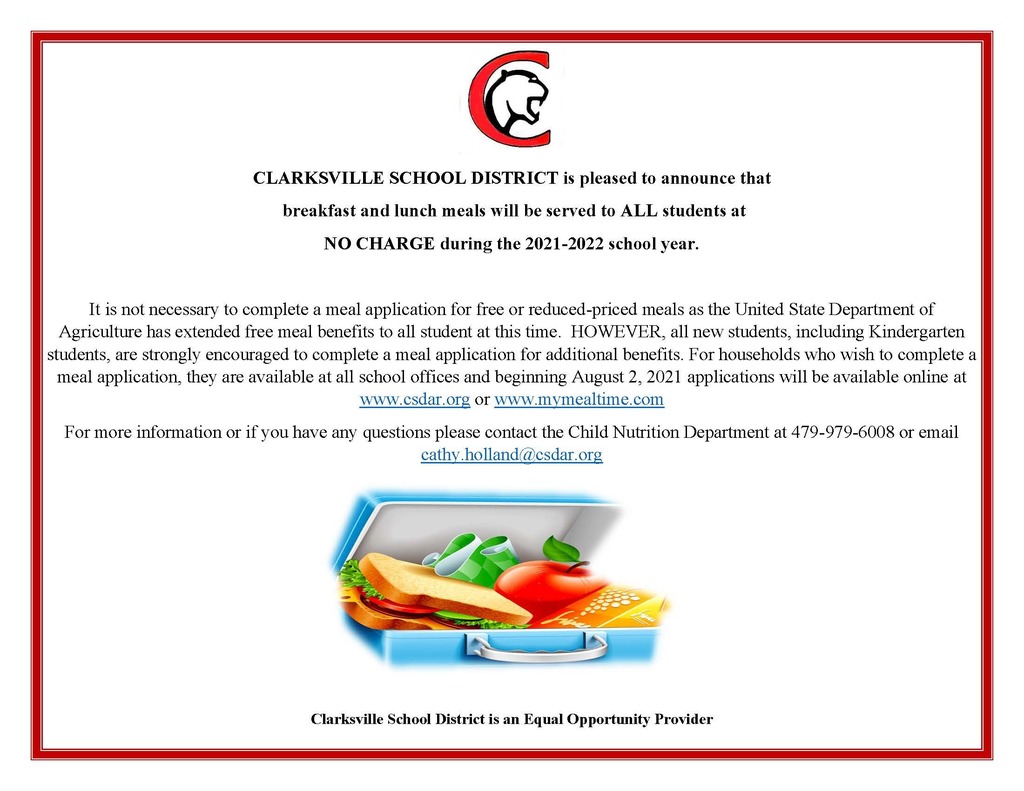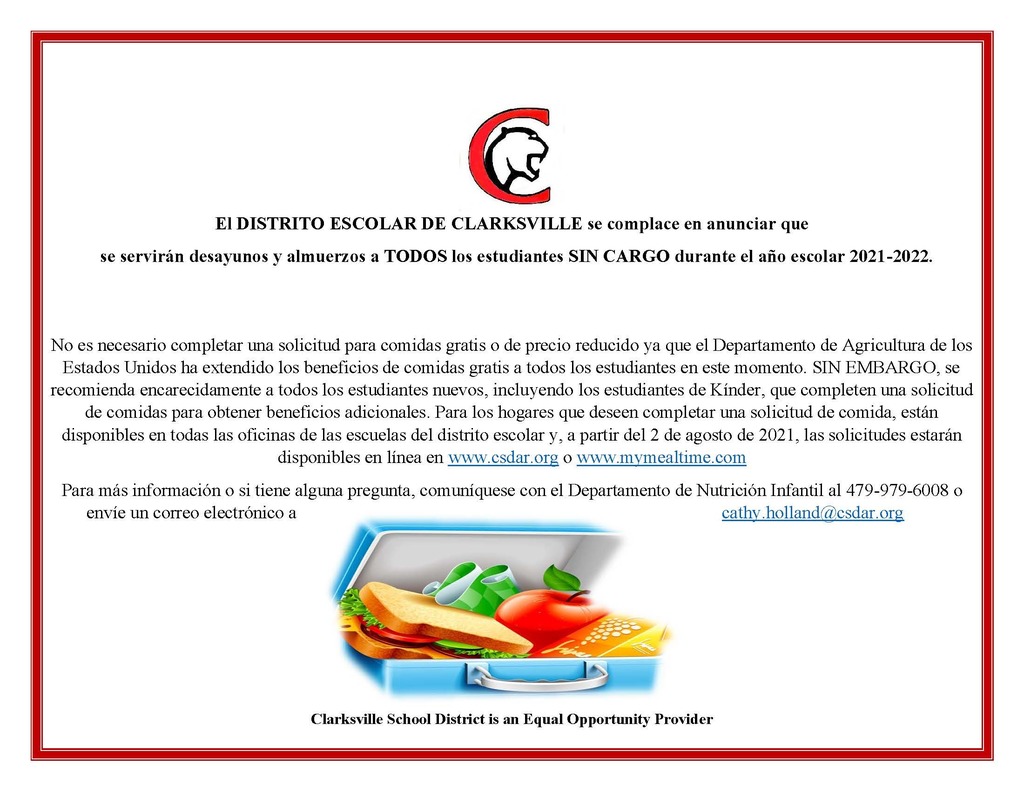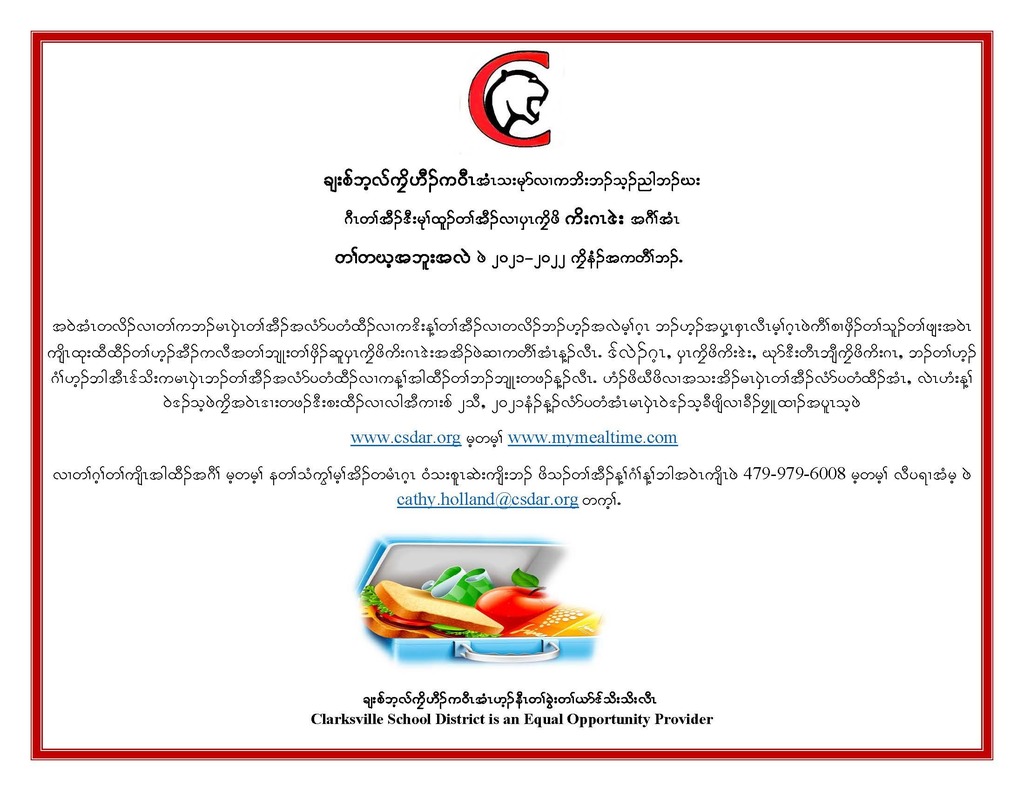 Graduation practice Graduation practice for this morning (5-21) has been canceled. Graduation ceremony Due to the threat of wet conditions later this evening, we will be moving the ceremony to 10:00 am on Saturday (5-22). Graduates will need to be at the stadium at 9:00 am on Saturday morning. We are sorry for the inconvenience but wanted to make the call early enough so families can make the necessary adjustments
Attention Class of 2021: PLEASE READ THE ENTIRE MESSAGE The weather is not looking great for our practice on Thursday morning, so we are going to make a change. Practice will be canceled for Thursday morning and moved to Friday morning at 10:00 am at the football field. This is still mandatory but we understand if you cannot be at the practice because of the change in the schedule. Please try to make it if you can. THURSDAY'S SCHEDULE: 8:30 AM - MEET AT CHS CAFETORIUM FOR PICTURES AND SLIDE SHOW BRING PICTURE ENVELOPE WITH MONEY BRING CAP AND GOWN NICE CLOTHES FOR PICTURES AROUND 9:30 - SENIOR WALK
Class of 2021!! Graduation ceremony tickets may be picked up tomorrow at the high school office from 8-4.
The 2nd shot vaccine clinic for students will be on Monday at 8 a.m. in the aux gym. If you received the first shot on April 19th, you are eligible to receive your 2nd shot. You will need the signed consent form that is on schoology or you may also pick one up in the office. If you want to receive the 1st shot, you can pick up a form in the office and you must return it by 3 p.m. on Thursday.
Graduation information: The commencement ceremony for the Class of 2021 will be held on Metheny Field at Whitson-Morgan Stadium on May 21, 2021 at 7:00 pm. Each graduate will be able to invite 12 guests to the ceremony. Additional details will be given as the ceremony date approaches. In case of inclement weather, the ceremony will be moved to May 22, 2021 with the time yet to be determined.
CHS to host a COVID-19 vaccine clinic for eligible students.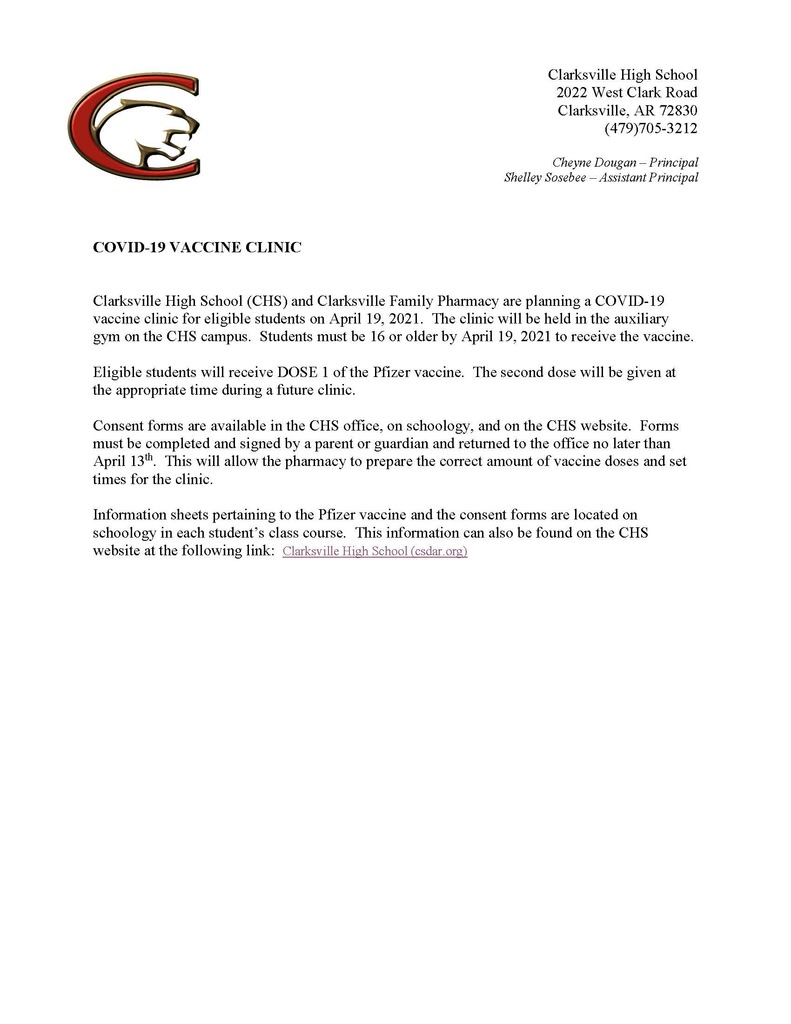 Seniors: Jostens will be on campus from 1:00 - 3:00 on Wednesday, April 7th to deliver you graduation items. They will be located in the cafetorium from 1:00-3:00. Remember that this is a virtual day for you because of ACT Aspire testing for sophomores. We cannot hand those items out any earlier so please make arrangements to pick them up between 1:00 - 3:00 on Wednesday.
2021 Prom Information
Due to the Governor's announcement lifting the mask mandate, we wanted to remind our parents that we will continue our mask policy until the end of this school year. This was decided by our school board at the March meeting.
ACT Aspire information.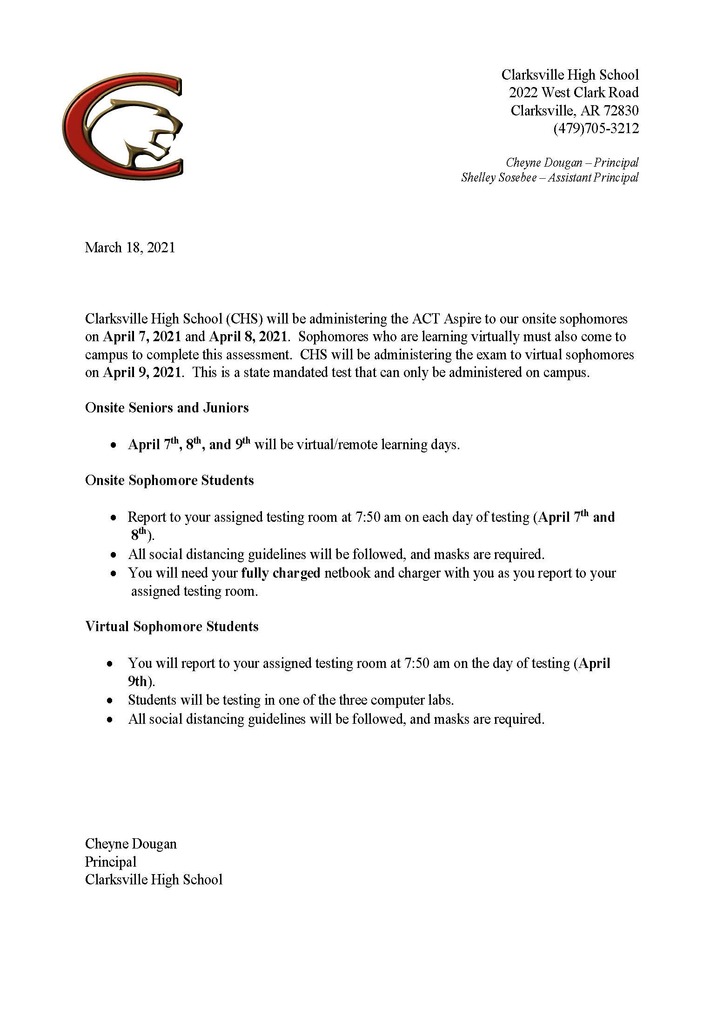 The Clarksville School District became aware that a group of students intended to meet at a location off campus and attach flags to their vehicles so that they would be prominently displayed as they drove onto the high school student parking lot. Due to the complexity of policing these items and the safety concerns that arise from such activities, the administration does not allow any flags to be flown from vehicles on school grounds. Our legal understanding of this matter is that if a student is allowed to prominently display a flag on their vehicle, regardless of the meaning behind the flag, we would have to allow everyone to display a flag of their choosing. We are here to provide a constitutionally mandated, free and appropriate education for all of our students. We are not here to inspect or referee issues that arise when students are allowed to rig flags to their vehicles.